Tumblr is one of the best microblog platforms, specially for photographers. You can build your first photography website with Tumblr easily because it is a fully customizable and user-friendly blogging platform. If you don't have any previous coding skills you can make your website and you don't need to worry.
Are you looking for the best photography Tumblr theme? Today I am going to show you some best Tumblr themes for photographers. A great theme is very important for you to show your great work to the world, so you need a nice designed Tumblr them with customizable functionalities for your photography. You can use free Tumblr theme or premium Tumblr photography theme for you but I always suggest to use a premium theme. Premium themes are great looking and have more features.
A best photography Tumblr theme should have some customizable options such as Responsive design, Grid-based gallery layout, Connect to social networks, infinity scroll, animation, SEO optimization and some others.
We researched on every Tumblr themes for photographers and select best for you. So, if you are really looking for very beautiful and professional photography Tumblr blog you must check those themes and select which one is the best fit for you. Here are some best Tumblr themes for photographers.
Best Tumblr themes for photographers portfolio
1. Photographica – Portfolio Tumblr Theme for photographers
Photographica is a minimal portfolio Tumblr template for photographers. The Tumblr theme is mobile responsive and it will perfectly fit on every device. It has some cool customizable options to make and manage your photography website on Tumblr easily. The theme is made for creative professionals. It has 3 columns large screen, 2 columns medium screen and 1 column small screen layout. The Tumblr theme is google analytics-ready so you will get SEO optimization easily. You can also link your social media profiles by this very best tumble portfolio theme. It supports Lightbox to show images in a better way.
2. Twisting – Responsive Portfolio Tumblr photography Theme
Twisting is a responsive designed theme for showing your portfolio. If you want a very beautiful Tumblr website to show your photography you can use the best photography Tumblr theme. This Tumblr theme is very lightweight and it will load faster on your visitor's computer. This theme is responsive to various devices. You can use any color you want on your site by the theme because the theme has an option for unlimited color customization. The portfolio Tumblr theme support Google Webfonts and twitter style posts loading. The Tumblr theme support post types and custom pages so you will get more flexibility.
3. Grid – Responsive Portfolio – Tumblr Theme for photographers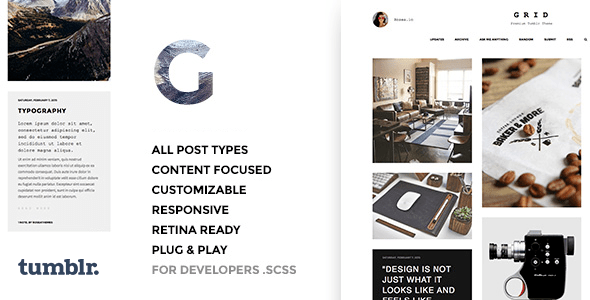 The grid is a quality designed Tumblr theme for photographers. You can make an outstanding photography website on Tumblr by the Grid portfolio theme. Grid Tumblr portfolio theme is mobile responsive and very nice. The Tumblr theme is really versatile! If you want to stand out and be different use this theme on your Tumblr site. The theme is highly customizable and you can change your theme design and colors by the theme option. The Tumblr theme is cross-browser supported and retina ready. I think this is a great Tumblr theme for photographers.
4. Makna | Minimalist and Delightful Portfolio Tumblr Theme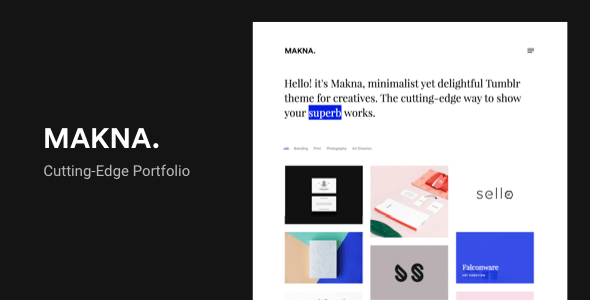 Makna is a great Tumblr theme for creative photographers, who want to show their work in a nice way. It is a minimalist and stylish Tumblr theme. This theme is minimalist gird-based Tumblr theme to show your delightful portfolio. It has a post-filtering option for visitors. This portfolio Tumblr theme support cross-browser. It has the feature called infinite scroll post load system so visitors will get a great feeling when they will visit your website. It has also the Google Analytics integration system for better SEO optimization.
5. Moa – Responsive Photographers Portfolio Tumblr Theme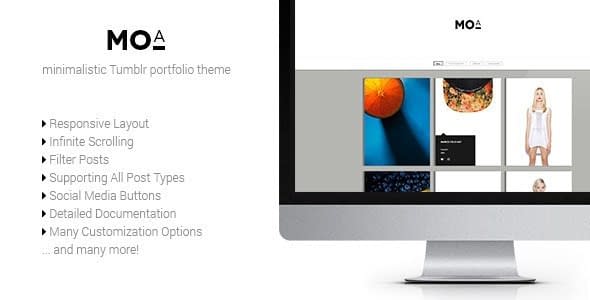 Moa is a nice portfolio responsive Tumblr theme for photographers. It has the nice and cool infinite scrolling system. This is a minimalistic portfolio theme for Tumblr for photographers. You can make your any kind of portfolio website by this Tumblr theme. The Tumblr theme has unlimited color customization option. The theme load as like as the twitter website. It has many options like parallax, header image, pagination and all you can change the theme options panel. The theme support all types of posts and custom pages to give you more flexibility.
6. Fortune – Portfolio Tumblr Theme for photographers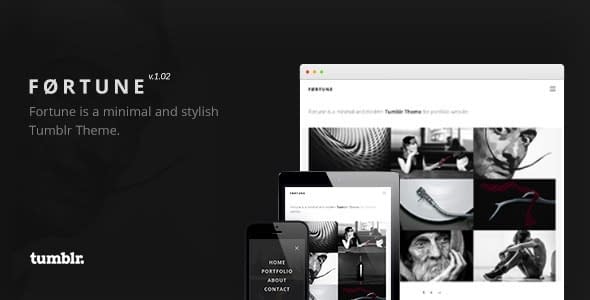 Fortune is also a great responsive portfolio Tumblr theme for photographers. This minimal and stylish Tumblr theme can give you a great Tumblr website experience and the theme is designed perfectly for Photographers. This theme support All post types (Text, Photo/Photoset, Chat, Link, Quote, Audio, Video). The masonry grid layout will give your website a professional and nice look. You can also add your social media links by the Tumblr photography template Fortune. This is one of the best Tumblr portfolio themes.
7. Aperture – Responsive Photography Tumblr Theme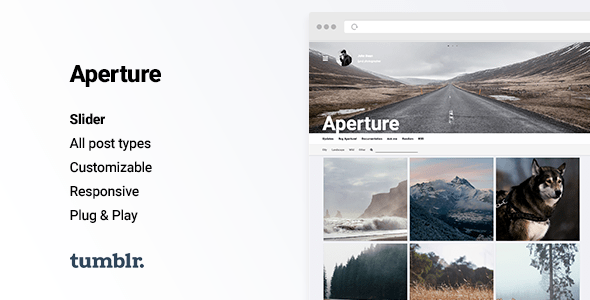 Aperture is a high-quality responsive Tumblr theme for photographers. This is a masonry based Tumblr theme. It has a responsive slider header image function. This theme will be perfect for creative designers and photographers. This is a fully customizable Tumblr theme with lots of possibilities. If you want to build your own creative photography Tumblr website, Aperture is a great theme for you. This has author sidebar so you can add your personal information there.
8. Amanra – Responsive Grid Photography Tumblr Theme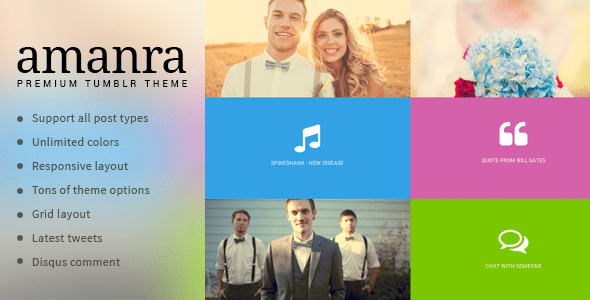 Amarna is an eye-catching and slick photography and portfolio tumblr responsive theme. If you want a slick design tumblr theme to showcase your best work Amanra is the best tumblr theme for you. You can also use this theme for any other purpose if you want. Amarna is feature-rich tumblr portfolio theme. This responsive theme is powered by Isotope grid layout. Amarna theme comes with lots of features to help you to make a professional website easily. You can modify your theme colors in the theme from theme option. It has also had a nice toggle sidebar which will open when you click on the toggle button.
9. Material | Responsive, Full Width, Grid Tumblr Theme for Photographers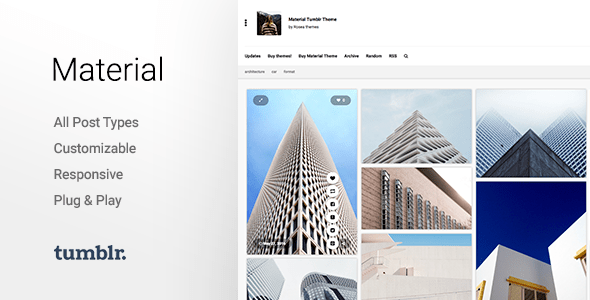 Material is the best material designed Tumblr theme for photographers. This is a minimal design theme and this Tumblr theme is based on material design principal. If you want to showcase your best photographs on a material design Tumblr theme this theme is the best choice for you. This theme has single posts filtering option, awesome image popup, infinite scrolling, and many other features.
10. Depth of Field – Fullscreen Photography Portfolio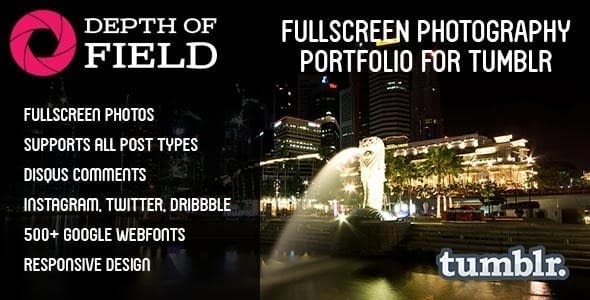 If you are finding a fullscreen Tumblr theme for your portfolio website Depth of Field theme is for you. Sometimes you need to show your work in a different way and the theme will give you different feelings. The theme supports all tumblr post types that means you can post galleries, videos, audios, links, quotes and everything you need to post on your site. This theme also supports a special post type ask. You can also display your latest Instagram photos, dribble shots, and some more social media links.
This was some best tumble photography themes for photographers. If you want to make your portfolio on tumbl then you can try one of them. Don't forget to let me know which one did you like most. Is there any other best portfolio tumblr themes you know?