If you are finding the best retro vintage Tumblr theme for your next Tumblr blog you know how hard it is to find the best one. So I am here with a collection of retro vintage Tumblr themes. I checked every functionality and features of these themes. You must need a retro Tumblr theme that is SEO friendly and responsive. You have to be wise when finalizing your theme.
Tumblr is a great blogging platform for no skilled person at coding and web design. You can make your first blog easily with Tumblr and keep the focus on other things you need to do. Tumblr is a very powerful microblogging platform and it has huge popularity. There are many Tumblr themes for non-coders and those are highly customizable.
There are lots of Tumblr themes on the market but there are a few amounts of retro Tumblr themes, vintage Tumblr themes, 90s Tumblr themes or 80s Tumblr themes. We have researched over the internet to find out some best retro vintage Tumblr themes for you. It was a pretty hard journey for me to find out those and make a list for you.
In this article, I will share some awesome retro vintage Tumblr themes to save your time and money. I hope you will love and share our post.
You may also like….
Best retro vintage Tumblr themes – 80s, 90s Tumblr templates
1.Halftone – Retro vintage Tumblr Theme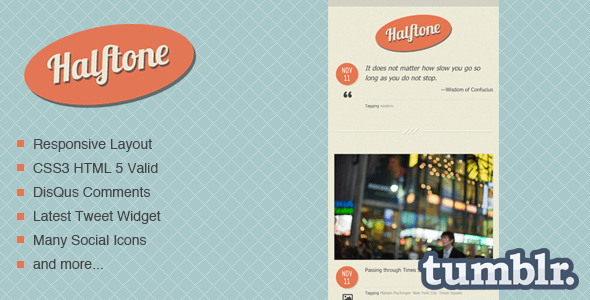 Halftone is an HTMl5 supported retro Tumblr theme. If you want to share your creative blog with a retro-style Tumblr theme this can be a perfect theme for you. Halftone Tumblr theme is a beautifully designed Tumblr theme with a highly customizable theme option. You can upload your own logo and customize the footer and header of this theme. There is also a customizable widget area to customize your theme widget easily. Halftone retro Tumblr theme supports DisQus comment feature. You can add google analytics to your blog by this theme from theme option. Halftone will help you to connect your popular social media accounts.
Demo + Download
2. Zeppelin – Vintage Style Tumblr Thememblr Theme
Zeppelin is a vintage style very light Tumblr theme means your theme will load faster than a heavy theme. When someone comes to your blog they want it will load fast because they don't have much time only for you. Zeppelin vintage Tumblr theme supports all types of Tumblr posts that means you can share anything you want. This theme has a cool feature that most of Tumblr themes don't, You can select Endless Scroll or Pagination from the Tumblr theme options. I think this Tumblr theme is very useful as it has many customizable features. You can customize your logo and logo text from the theme option very easily. If you know some basic CSS, you can add your custom CSS to make your custom style.
Demo + Download
3. Elegantem – retro Tumblr theme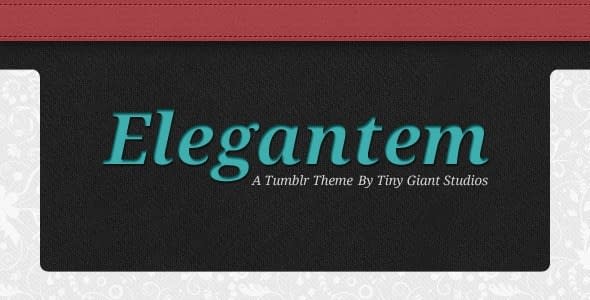 This is a very nice Tumblr theme with lots of customizable features. This is also a very popular retro Tumblr theme. You can almost customize everything of your theme because this theme is highly customizable. Elegantem – retro Tumblr theme supports popular social media so you can share your social media activities with this theme easily. This theme is very flexible and you can add a right sidebar or left sidebar from the theme options panel. You can customize your theme colors and use your own color that you think best for your blog. This theme will allow you to sort posts according to type. Elegantem template is jQuery / CSS3 powered. You can also share your latest tweets from twitter by this retro Tumblr template.
Demo + Download
4.Diana Theme – a vintage style Tumblr theme
Diana is a fully customizable vintage Tumblr theme. This vintage template supports all types of Tumblr posts. You can share your latest Twitter posts and Flickr photos in a unique postcard layout. You can customize your theme title, tags and text colors from theme option. You can use your custom background image on your Tumblr blog by the Diana vintage Tumblr template. You can show or hide the people you follow. This is also a popular retro Tumblr theme on the market. Many customizable features make the theme popular to Tumblr users. I love this old style Tumblr theme.
Demo + Download
5. Polaroid Tumblr Theme
The Polaroid Tumblr theme is a creative template for Tumblr users. This theme was designed by Pixel Floss to show your best work on Tumblr. This theme has a very clean and clear layout, that will help you to make a very user-friendly Tumblr blog. The theme was designed for nonexperts to give them an easy to customize the Tumblr theme. If you use this theme you can make your website layout as you want. You can control your theme from the theme option and can change colors, images, and sidebar very easily. This is 2 column Tumblr theme and this theme will help your users to see all of your posts. This retro Tumblr theme has lots of incredible features like Cufon font replacement, Supports ask me and submit post buttons, Stylish twitter feed, Flash animated Flickr widget, Social network icon links, Tested in all major browsers, Help file and after-sale support, Easy to navigate code. You can install the theme in less than one minute. This Tumblr theme is different than others and very very stylish.
Demo + Download
6. Cream – A Retro Tumblr Theme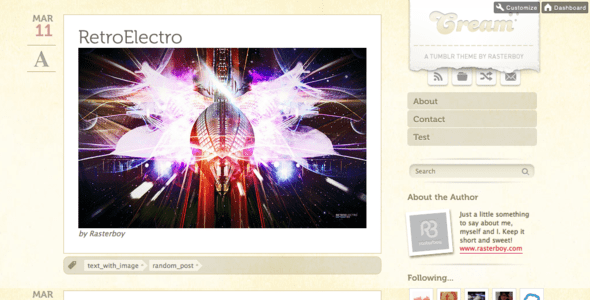 Cream is a very powerful Tumblr theme with a clean and simple designed layout. This theme is using subtitle textures and colors to give your Tumblr blog light and playful feel. Theme main colors are creamy tones of beige and tan with pinks for links and accent items. The sidebar of this theme is very customizable and you can easily add in Flickr or custom content as each block. You will get fully layered PSD so you will able to edit any graphic elements.
Demo + Download
7. Time Goes Back: A Tumblr Portfolio Theme
This is a very popular old-style Tumblr theme to showcase your portfolio. This theme comes with the clear designed layout and it is featured rich Tumblr theme. This minimal theme is highly customizable with the grid-based layout. You can integrate your Wufoo contact form because it is very compatible with the contact form. This clean coded Tumblr theme can give you the best Tumblr theme experience. This theme is powered by jQuery, CSS and Tumblr's API. Very easy to install and customize. You will get 3 extra pages with this retro Tumblr theme.
Demo + Download
8. Pixelated Tumblr theme with retro style.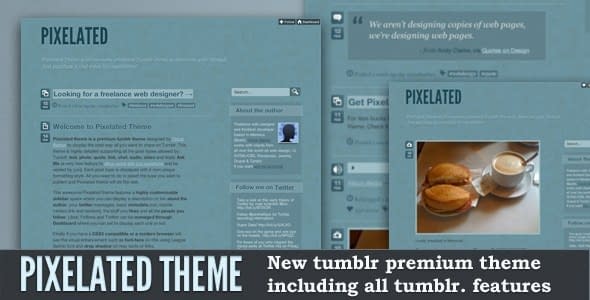 Pixelated theme is a great theme designed by Oscar Barber to share your posts on Tumblr in a retro vintage way. This is details focused Tumblr theme and supports every post type Tumblr allow. The theme has a new feature Ask Me which allows users to ask you questions and you can reply to them with this theme feature. It has it own unique formatting style to display each post type. You just need to select the post type and publish and the theme will display your post in a great style. This theme has a highly customizable sidebar feature to customize your sidebar easily. This retro Tumblr theme is compatible with all modern browsers.
Demo + Download
9. Ziked – vintage Tumblr Theme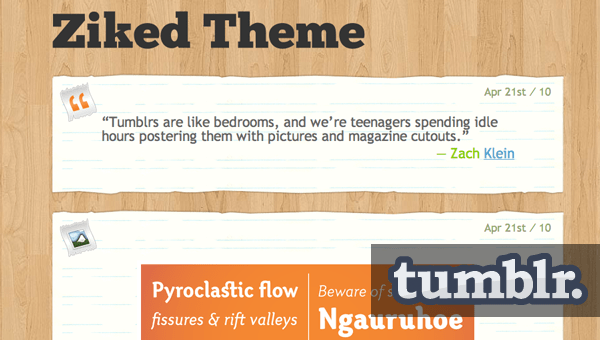 If you want to give a creative and unique retro feel to your Tumblr blog Ziked retro Tumblr theme is for you. This is a very simple theme with lots of color customization options and energy. By using Tumblr's customize interface you can change the entire theme look and feel. You can add header image, upload background image, etc very easily. You can add your social media links to your Tumblr theme.
Demo + Download
10. Memorabilia Tumblr Theme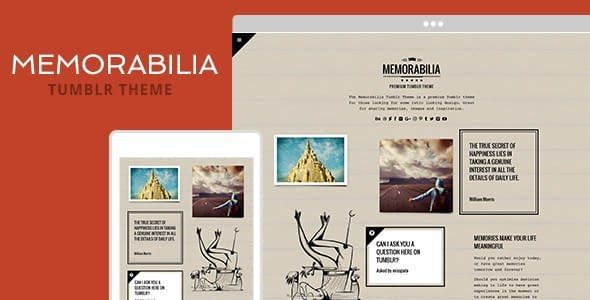 Memorabilia is a premium quality Tumblr theme. If you want a good looking retro style Tumblr theme you should check the memorabilia retro Tumblr theme for you. This is a very stylish retro Tumblr theme and very cool designed. The theme is super customizable and flexible. This great retro style Tumblr theme can give you a different taste of Tumblr blogging. you can display your Tumblr posts by this theme in a different and interesting way. This theme has a random post layout style that will give you different feelings of Tumblr blogging. If you want to share something and show your fun personality this theme is the best retro Tumblr theme for you.
Demo + Download
11. One Retro – Responsive and Minimal Theme
One Retro is a clean and minimal retro style Tumblr template. You can share any kind of Tumblr post by this One Retro Tumblr theme. This Tumblr theme supports all popular social media, you will able to connect your social media account easily by this Tumblr theme. This Tumblr theme has a lot of customizable options you can customize your theme header as you want. This theme is ultra-responsive and will perfectly fit on every kind of device. You can also add custom CSS to give your Tumblr blog to give it a custom look.
Demo + Download
So here wast the list of 11 best retro Tumblr themes, vintage Tumblr themes, 80s Tumblr themes, 90s Tumblr themes. Let me know if you know any good retro vintage Tumblr theme. I will try to add that theme to the list. If you like the article please don't forget to share it with your friends.