Without any doubt, Squarespace is one of the best website builder and CMS of the modern age. It allows us to create stunning websites in short time without any programming knowledge. It is a drag and drop website builder and has many free templates. You can kick start your website with any Squarespace template suitable for your business.
There are many Squarespace templates, but all of them are not the best. Some Squarespace templates are highly customizable and some are limited. So you have to be wise selecting Squarespace template for your website.
In today's post, I will discuss some best Squarespace templates and I will try to explain them how and why they are the best Squarespace templates.
To select the best Squarespace template for your website you have to know the functionalities of the template and what can you do, what you cant.
If you select a wrong Squarespace template and start building your website then it can be a waste of time, end of the day you will get nothing. To save your time I decided to write this article.
You may also like…
Why I should use Squarespace?
Squarespace is a beginner-friendly drag and drop website builder. You can make a very professional website without any technical knowledge and without spending a lot of money. Squarespace is quite popular among freelancers and small business owners because their pricing plan is affordable compared to other website builders. Squarespace websites load faster than other website builder made websites. It is a great thing to consider because search engines love fast loading website and fast loading websites rank higher than slow loading websites. Squarespace offers easy to use SEO feature and all the websites you make using Squarespace will be 100% SEO friendly if you follow some easy steps. You will able to add google analytics to Squarespace easily with few clicks. There is no way to use Squarespace plugins but you can use third party codes with the code injection feature and they are also formally known as Squarespace plugins or Squarespace addons.
Note: I am a Squarespace web designer and designing websites for the last 5 years. I am not talking about the design I am talking about functionalities.
Best Squarespace templates
As I mentioned before I am writing this article to make sure you use the best Squarespace template for your website and I make this list considering functionalities of Squarespace not by the default design. You cant use any premade design exactly for your website. You need to customize them according to your needs.
1. Basil – Best Squarespace template for business website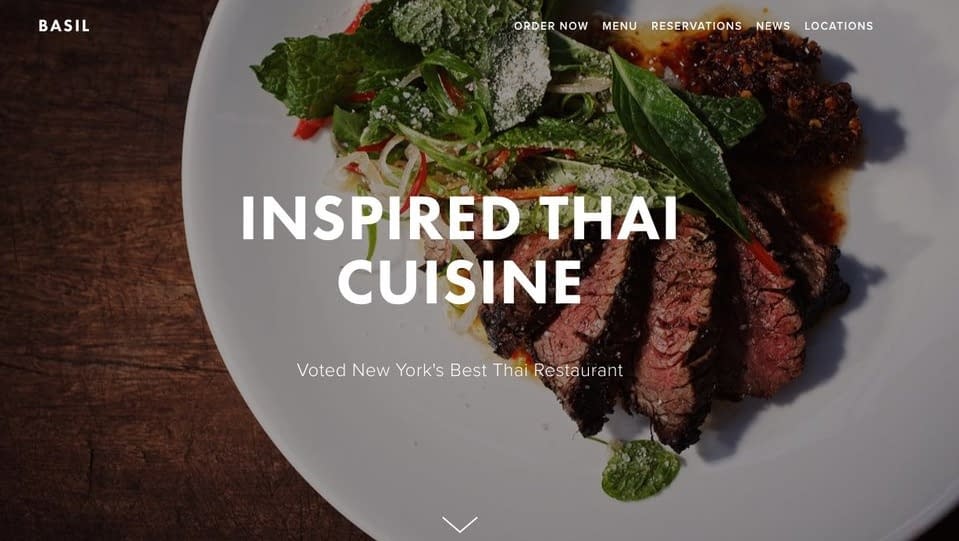 You may wonder why Basil is the best Squarespace template for business websites. If you use this template you will love this template. I use this Squarespace template for all of my clients to create their business websites. The functionalities of this Squarespace template is endless. Basil template is designed for restaurant websites but you can make any kind of business website by this theme. You can make index pages with different section and you will able to customize them. You can add backround image of any section if you want to use. You will able to use parallel effect on your website.
You can change the header design and position of your logo, navigation menu, tag line as you want. The template will also allow you to add social media icons to the header.
As I said you can add background image on any section, that means you make a beautiful banner for your homepage with text, buttons. You can change and customize everything you want, as you want.
Let's see customizable options of this Squarespace template.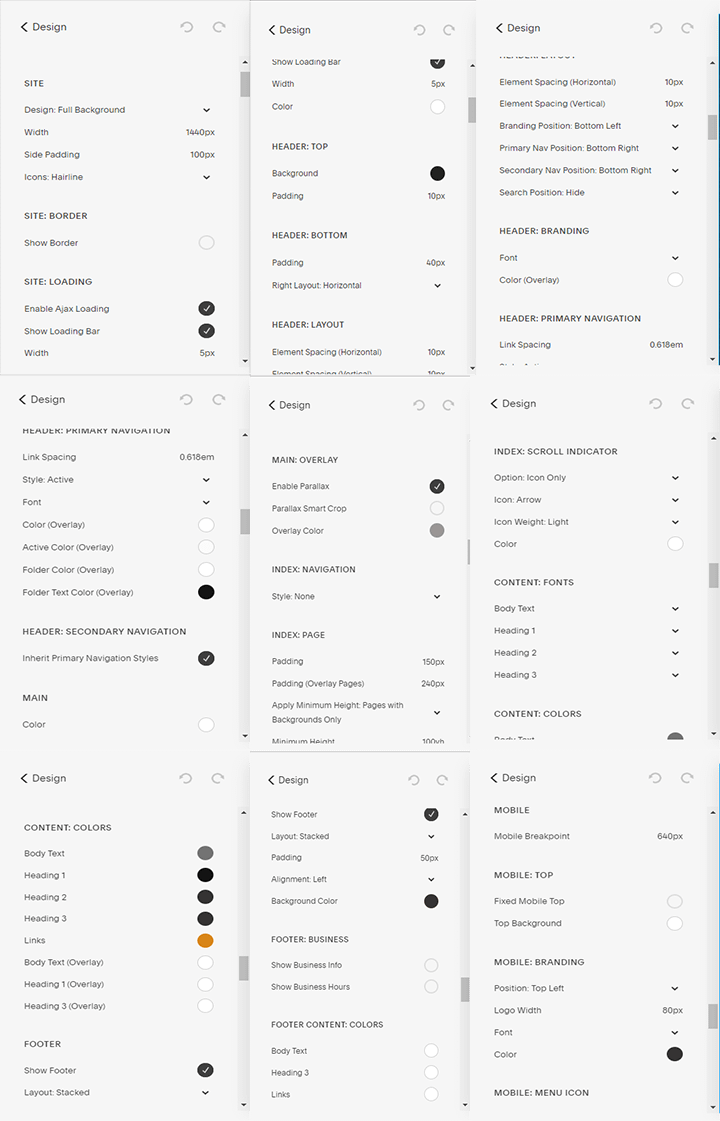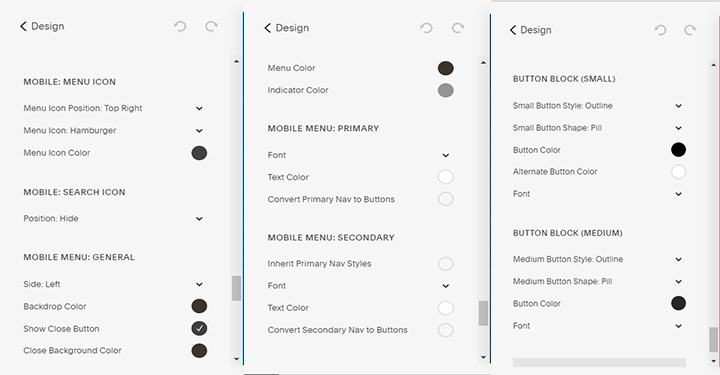 I hope now you can understand how flexible this Squarespace template is. If you have a little knowledge about Squarespace design then you can make a professional website using this best Squarespace template. Now I am going to show you how I made a business website landing page with Basil Squarespace template in just 5 min.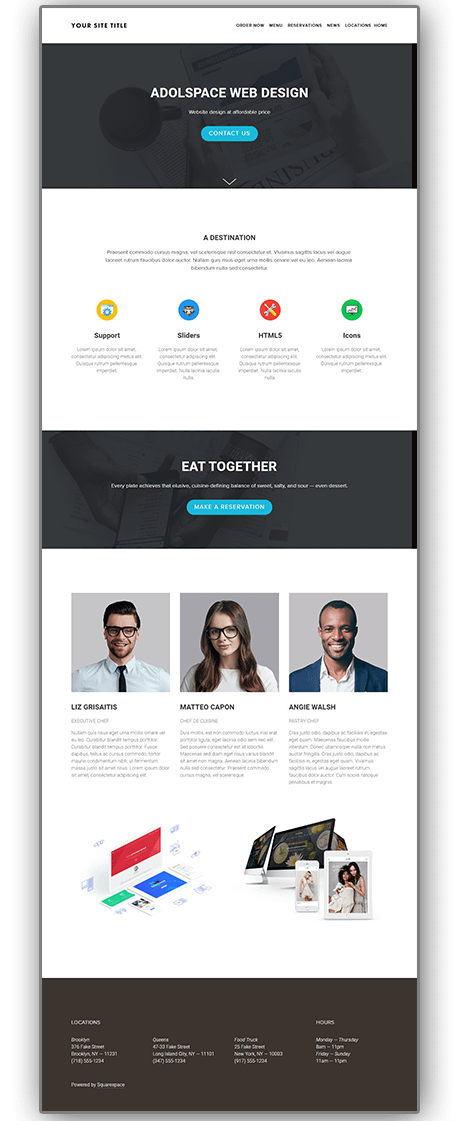 Is this a restaurant website anymore? If you give more time then you can make a beautiful website with this template. You should at least give it a try.
Demo
2. Brine – Best Squarespace template for business website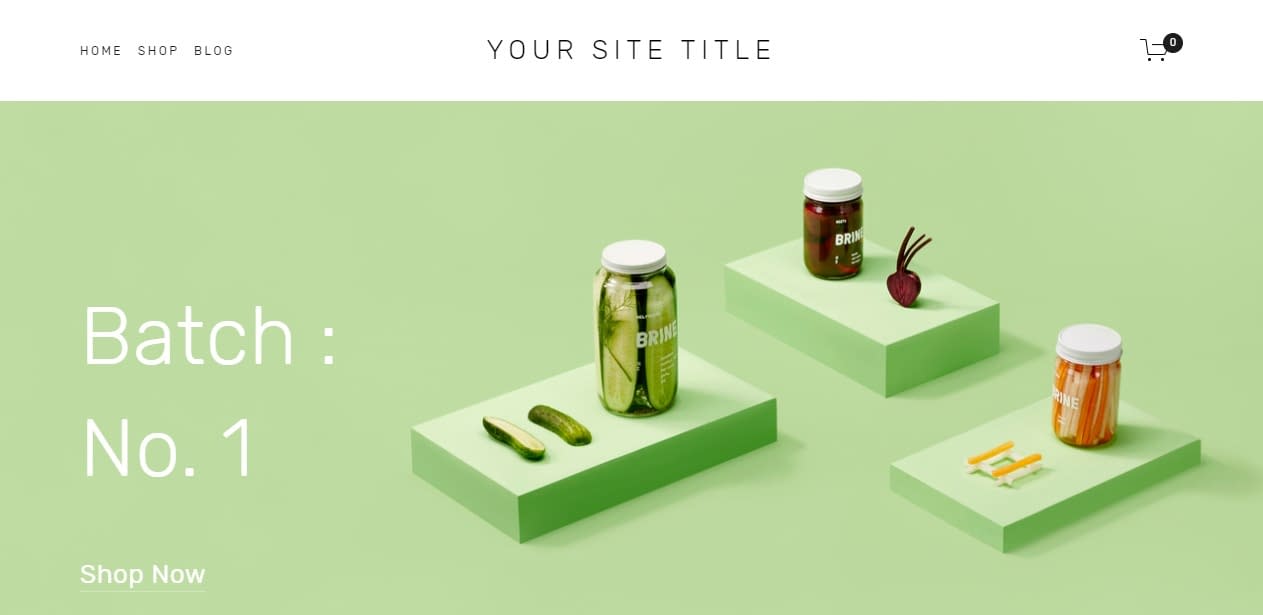 Brine is the parent template of brain family and you will get customizable features as like Basil template. I want to mention you that Basil is also a template from Brine template family. You can make a business website using this template for your company. The demo is created with an eCommerce model any online store has a small range of products. This template has powerful eCommerce feature with 3D parallax effect. You can give your eCommerce website a stunning look with this template. I recommend this Squarespace template if you want to have a business website with some products on your website. I don't recommend this template if you are looking for best Squarespace eCommerce template to make a complete eCommerce website. You will get tons of customization options, changing the header design logo, text anything you want.
Demo
3. Five – Best Squarespace template for blog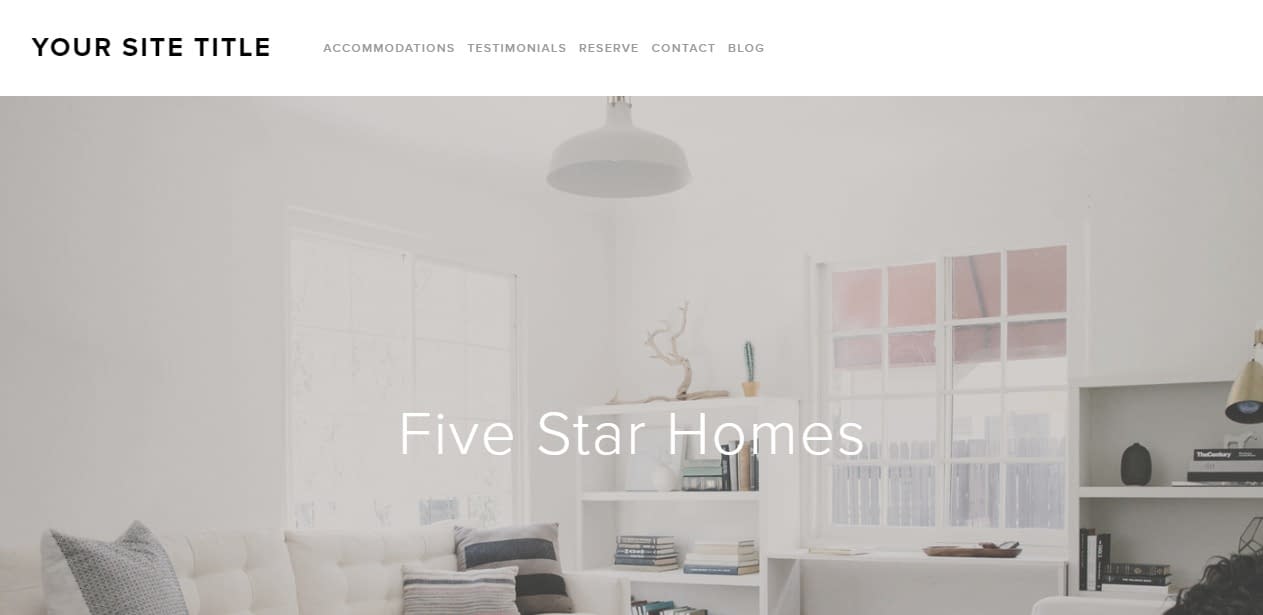 Five is an only Squarespace template with a built-in sidebar option. If you are going to make a blog with Squarespace website builder you should try this template. There are so many companies who want to have a blog along with their business websites. The Five template is a professionally designed Squarespace template you can use to make a business website or blog. The sidebar is an effective way to promote your special features and services such as you can highlight your promotions, your address or contact information, your bio. You can add two sidebars using this Squarespace template on your website. With Five template you can showcase your blog with full wide banner image and video. You will also able to integrate eCommerce on your website using this template.
Demo
4. Rally – Squarespace template for blog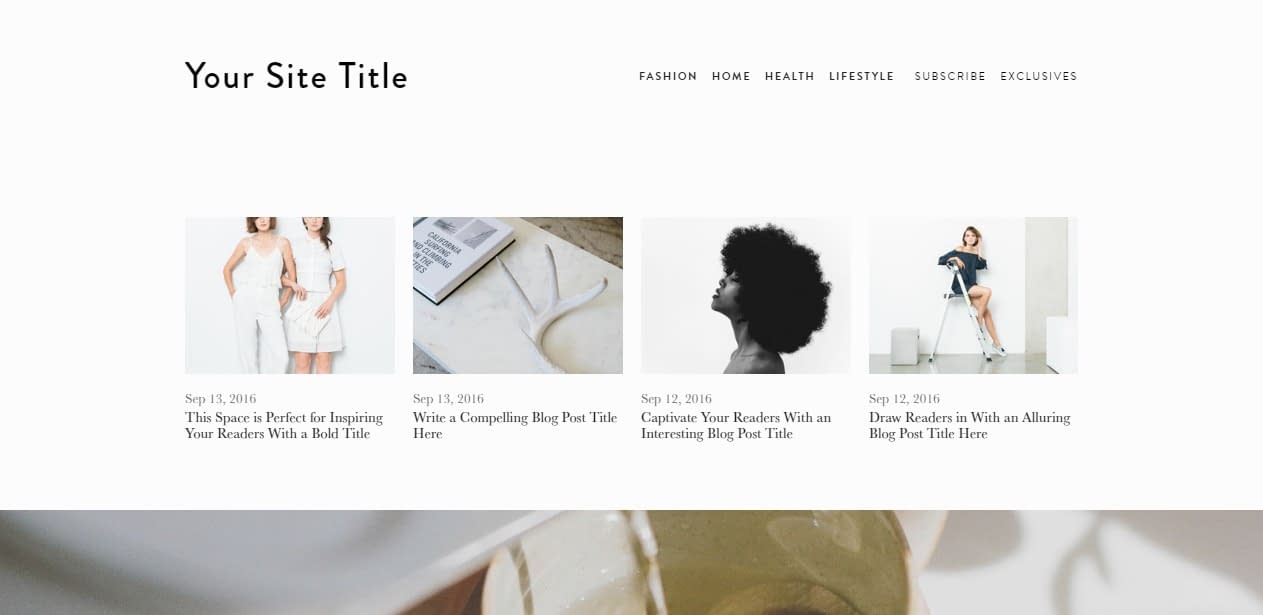 Rally is a great Squarespace template for bloggers or writers. If you want to make a blog website you should use the Rally Squarespace template. The design interface of Rally template is minimal and userfriendly. This template comes with a fashion design blog layout but you can customize and make any kind of blog using this template. You can showcase your social media profile icons at the menubar.
Demo
5. Skye – Squarespace template for blogger
Skye is another great Squarespace template for blogger. If you are planning to have a fresh blogging website you can give this template a try. This template design is versatile and very much userfriendly. You will have the feature to add sidebar on your blog, add mailing list, social media sharing option for blog posts and many more features. The blog landing page is great with customizable grid and thumbnail images. Your visitors can browse each post from the landing page. This theme has an infinity scroll function. Under every blog post, your blog website will show related posts that will increase your website engagement with visitors. You will also able to add your bio with menu, just click on the menu icon left side of the template, you will understand what I mean.
Demo
6. Tudor – Squarespace template for blogger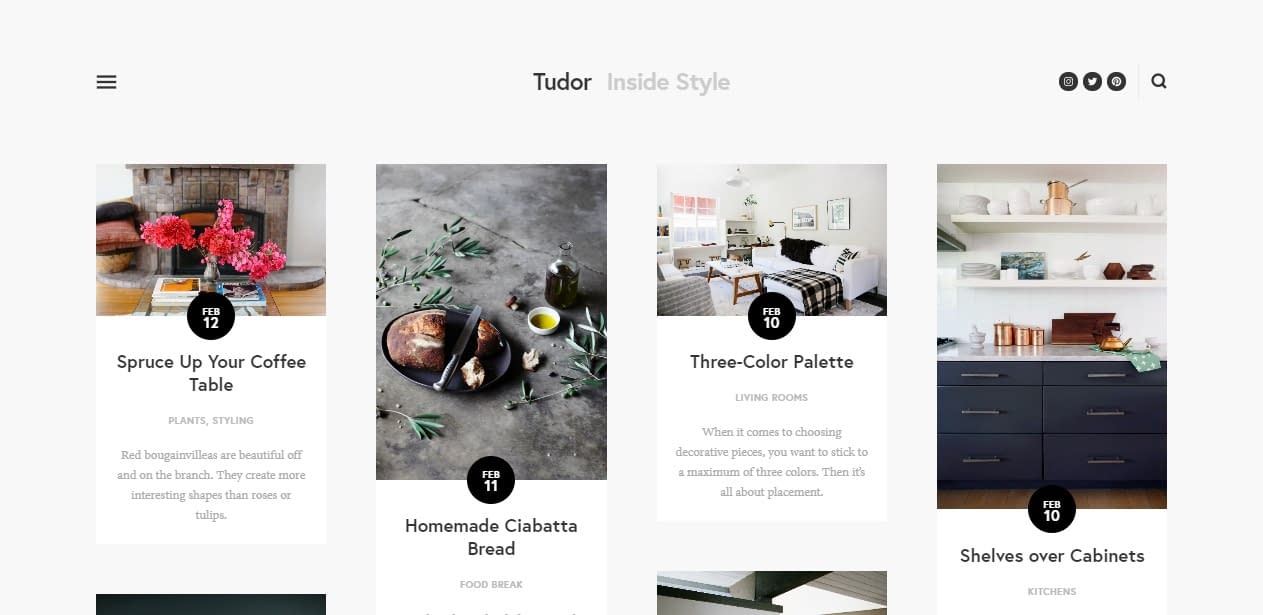 This is another great Squarespace template for blogger, Rally and Tudor Squarespace templates are from same template family. If you want to make a professional blog using Squarespace in a short time, this template can save your time and will help you to make a professional Squarespace blog. This template also has the option to add sidebar. You can add author bio at the bottom of every blog post using the template. Social sharing buttons, customizable grids, adding social media profile links options are also able with this best Squarespace template for blogger.
Demo
7. Wells – Squarespace template for portfolio
Wells is a great Squarespace template to make a photography portfolio website. By this template, you can show your photography in a professional way. The right side navigation menu is great and user-friendly for website visitors and they will able to easily navigate your portfolio category. This Squarespace template is quite popular among photographers because it allows creating a great photography portfolio website within a very short time and the design of this template is professional.
Demo
8. Ida Kester – Best Squarespace template for designers portfolio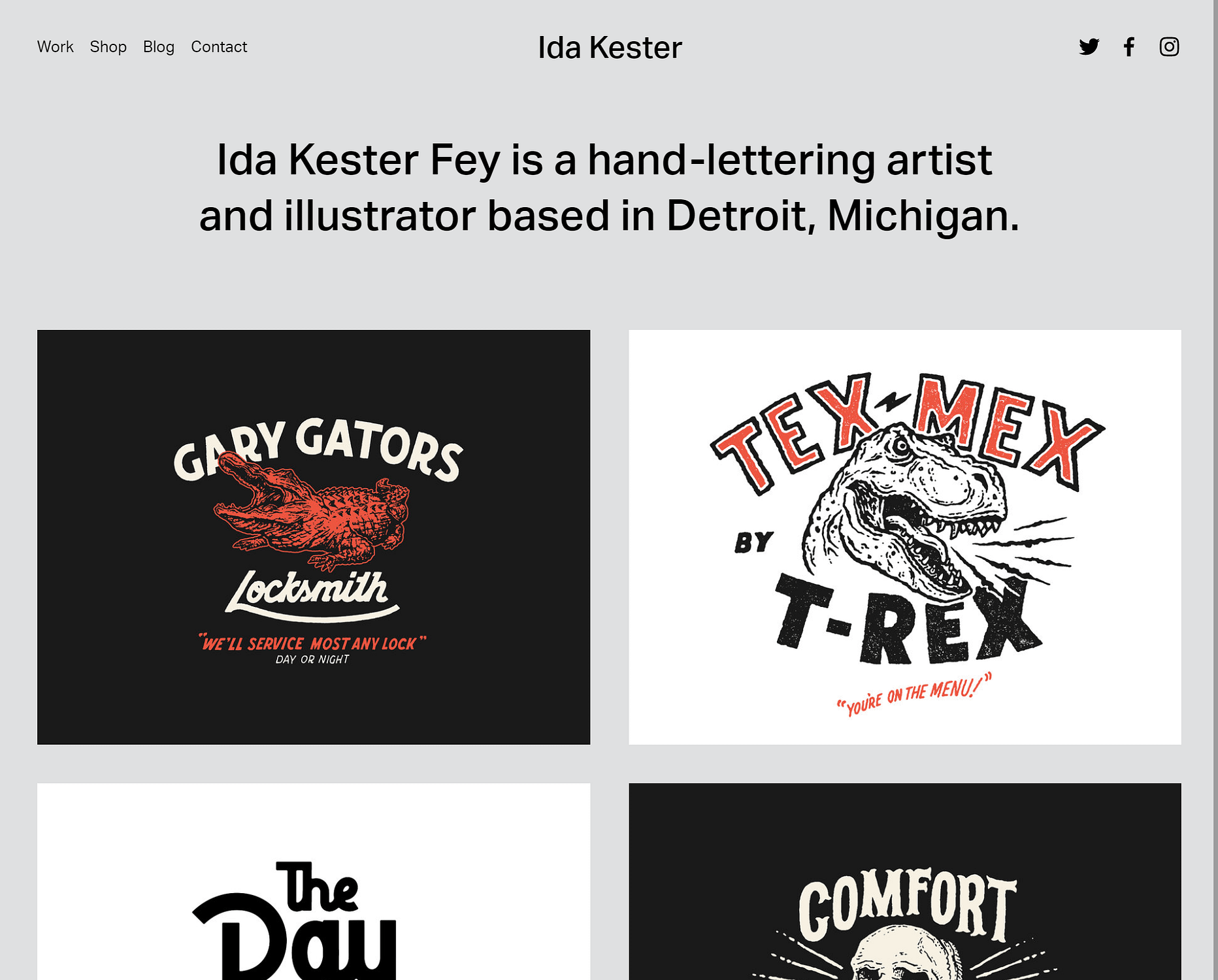 This is a new and updated template by Squarespace and best for designers. If you are a graphic designer and looking for a minimal design Squarespace template for design portfolio you can give this template a try. On the homepage, you will able to display your recent best projects with large thumbnail images. The template is very easy to use and you will able to make your Squarespace portfolio website within a few hours.
Demo
I hope this article helped you to find the best Squarespace template for your website. I will add more Squarespace templates on the list soon. Don't forget to share with me which Squarespace template is best and why in the comment section blew.