While digital media has certainly overpowered the field, print media has not given up on all fronts.
Brochures are still a vital solution to target a well-researched and precise market segment. They are a more personalized approach to establish your brand identity.
In fact, the most successful marketing campaigns have always taken the well-rounded tactic of incorporating the best of both, digital and print promotion options.
Top reasons why brochures are still effective
Digital marketing has made giant strides but has not completely vanquished the presence of physical documents in marketing.
Brochures and other print marketing collaterals like leaflets and posters are still very much in the play.
Physical marketing collaterals have a significant advantage that they can hold customer attention without the persistent distractions of pop up ads and persistent social media game invites.
They are a cost effective solution and directly extend your company values to your clients with your branding details stamped as truly on your brochure as on their minds.
Most classic establishments, hotels, brands and services stick to the production of rebranded brochures every year to have them on hand to make a strong first impression on every client that walks in through their doors.
However, these are not the few measly reasons to include brochures into your marketing game plan. There is much more to this solution than meets the eye.
These 7 reasons will help you get a clearer picture of why brochures have remained relevant to this day.
Let's dive right in!
1.   Strategic information delivery
Print media collaterals can be directly delivered into a particular area or distributed hands-on at crowded conferences and events. You can research the most likely places where your target market might gather and ensure flooded distribution of brochures in these areas.
When you build a website, you have to lead your traffic to it.
However, the key advantage of a brochure is you can bring the information directly to your target demographic and in the process ensure they read the information without any distractions of digital sub actions on the side.
With the physical information in their hands, your customers will connect immediately with the purpose of the brochures.
Clever brochure design ideas will let the message sink in repeatedly until they take the action associated with it.
Further, for local businesses, it is important to target new customers in the area just as much as they have to invest in customer retention plans.
People new to the locality will not know enough to seek your business out on the digital plane. However, brochures can be a tangible solution to introducing your business to them as a solution for their most pressing problems in your area of expertise.
2.   Intimate brand perception
Print marketing carries an undeniable personal touch. There is something about handing over a brochure or a calling card to leave your target audience with a direct impression.
With digital marketing, you can only hope to catch your audience at a perfect moment to get them to pay attention to your information.
Brochures keep your customers engaged. Creative design and content ideas can keep your audience browsing through the information much longer than any web copy on your digital marketing agenda.
For new startups, there is a period of lull before you build your online presence sufficiently. You can fill in the marketing gap with creativity to start a buzz about your business even before it has opened its digital doors.
Even at the beginning of a budding digital marketing phase, you need to keep the momentum of marketing going forward. With the steep competition in the field of online marketing, it will take time for the social media and website efforts to pay off. With brochures, the brand connection is instant, intimate and tangible.
3.   Flexibility for marketing experimentation
Building a marketing persona is important for every brand.
However, not every brand hits the bullseye at the first try. If you are going to experiment with the marketing strategies that invoke the biggest audience response, brochures are a great way to get that process going.
Firstly, brochures are flexible options for experimentation. You can create a weekly or monthly print schedule and switch the content, offers and catch phrases to monitor the strategy that tracks better with your audiences.
You can find professional brochure examples to switch the designs until you find the one that your audience finds most appealing. The biggest advantage with brochure marketing is that you can almost immediately see your readership interacting and responding to the strategy.
Any design or content tweaks that you might feel are needed, you can add them within the next printout cycle.
4.   Cost-effective solution
Brochures can be printed in bulk or in batches. The option is entirely dependent on your marketing strategy. However, bulk printing does provide an economic edge to your marketing budget.
Yet, if your intent is to experiment with strategy and you want to keep a weekly or bi-monthly printing schedule, brochures can still yield more returns for your investment compared to any other marketing strategies.
Brochures can contain special offers and discounts to get your audiences interested in collecting on the offer and thus opening up to their first association with your service.
Creative designs or alternate use brochures will find their way into referrals.
People might hand out your brochures to their acquaintances to get them to try out your services.
In the meanwhile, you gain an additional audience on the same brochure.
On top of that, these new visitors might not even have seen your digital or print advertisements yet, so the brochures are literally the vehicles to their brand introduction and induction within your service list.
5.   Connection to digital marketing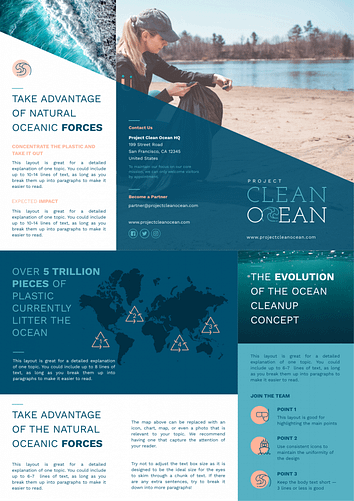 Brochures are not meant to replace digital marketing; in fact, they should be an addition to your digital planning. The right coordination between your digital and print marketing efforts can yield much better results for your brand recognition.
Plan your brochure design to reflect your digital collaterals.
The brochure should contain all of your official social media handles and website address. You can have a QR code campaign printed right within your brochure, so audiences can scan to vast your online portal directly. You can have additional offers, discounts and features waiting for them there to make the entire experience worth their while.
Brochures can also contain a template of your company's mission, recent achievements or association with prominent community initiates. You want the brochure to dignify your online presence.
The print collateral should be a one-on-one contact that makes the first impression. The digital information and calls to action within the brochure content can lead your audiences towards the digital presence to retain a roe lasting connection.
6.   Ruin the competition
Brochures are not fighting the same competition as your website or any of your digital media handles.
Digital platforms also have many alternate services that are designed to stop pop up ads on popular media platforms. It can get quite tedious and expensive to handle these hurdles at the beginning stage of your online marketing strategy.
Sending a mail brochure or handing one to your audience, is already a direct way into their periphery of attention.
As already mentioned above, print marketing is not working in silo today. It is a foil to aid your digital efforts. In situations where your digital plans are buffed by the steep competition, the online strategy will need some time to take root.
The print marketing will have you overtake your competition in the local arena and have traffic redirected to your online presence as a bonus.
7.   Repurpose with e-brochures
The content you develop for printing collaterals can be easily repurposed for your online profiles.
Creating e-brochures is a great way to have a connection with your printing strategy and to get the maximum bang for your bucks.
Online brochures literally serve the exact same purpose as their print counterparts. You can add the printable versions of e-brochures online so people can print out their own physical copies if that is what they prefer.
You can also turn the content of your print brochures into blog posts or feature posts on your website to recycle your content efforts for all platforms.
This helps you to:
Grab attention — Gain attention of your audiences by adding elements such as carousel slideshows and embedded videos, which are not possible for print brochures.
Access to wider audience base — You can send in your e-brochures as email newsletters to reach out to a wider audience base.
Easy maintenance — The e-brochures are easy to update and proofread compared to print versions.
Easy to monitor — Finally, you can also embed advanced analytics to track the performance of your e-brochures.
Online brochures can have the same design as the print versions to keep a seamless transition between the strategies.
Conclusion
Overall, when you invest in a print strategy, it indirectly enhances your corporate credibility.
Your audience understands your commitment to your business.
With a brochure, they also have something tangible in their hands to remind them of your brand and promises. This is way beyond the fleeting connection of a pop up advertisement that they saw and probably skipped mid-way while watching a YouTube Video.
If you want to boost your digital marketing efforts with an added touch of lasting impression for your audiences, this is the finest solution.
Brochures continue to have an elegant relevance even in this digital age.
FURTHER READING