The logo of your company represents your website, products, and services. It gives you a unique identity among your competitors and helps you to stand out from the rest. A well-designed logo leaves an impact on your target population and forces them to visit or try your services. 
A logo is an integral part of the overall branding strategy of a business. Without a logo, your business would miss out on several things, and your competitors will surely take advantage. Therefore, it becomes crucial for a person to craft an emblem for their business before stepping into the market. If you cannot afford to hire the services of a freelance designer or you don't have enough time, then you can turn to the online world and find the best logo maker service. No one knows your business better than you do; hence, designing a logo on your own can result in reaping various benefits. You can easily turn your startup into a well-recognized brand with the help of a stunning logo design. By giving your business a recognizable identity, you can easily overshadow the competitors and bring potential customers towards your business's realm.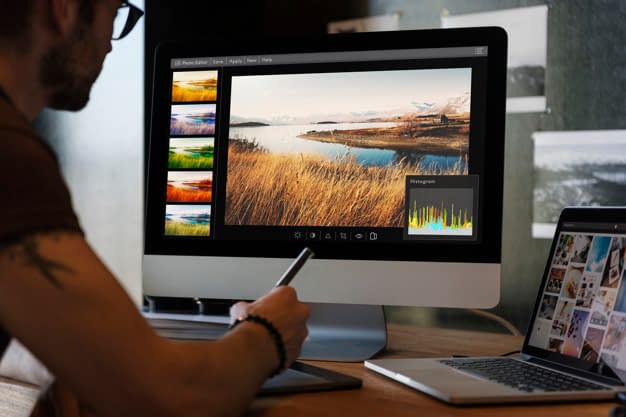 How to pick the best logo maker?
While choosing a free logo maker to make a perfect visual representation of your brand, you need to pay attention to some essential features such as:
Choose a tool that works on simple commands and does not consume a lot of time and effort

There are numerous tools worldwide, So be sure you are picking up a free logo maker for your design.

Pick a logo maker that offers you many customization features to get a precise representation of the sketch in your mind. 

Logo makers should be safe and secure. Look for its guarantee certificate before using it. 
5 Easy-to-use logo makers
From a lot of options Choosing the best free logo maker is the actual task. Some of the best available options are: 
This AI-based tool eliminates the need to hire a specialized logo designer as it allows you to show your creativity by offering attractive designs. This tool helps you get a free logo design even if you don't have any proficient skills. LogoMaker.net needs you to follow some simple steps to create a logo online:
Before using this online tool, get the registration as It is the critical step for designing and saving a logo.
Enter your Business's Details
First of all, enter all the relevant details about your business to get what you are looking for. This Logo Maker will ask you for:
The name of your niche

The name of your business Corporation

The Tagline of your product
Pick a Logo Template
It is one of the complicated and vital steps of logo designing. After entering all the last details, this tool will process your input data and display various logo templates that fit best for your business. You have to pick the most suitable one to have a free logo design online. 
Customization 
After selecting the template, you can keep it as it is or make some explicit changes to make it more attractive. It lets you adjust the font style and size, the color and size of the template, add or remove the shadow, background changings, add a different filter, etc., to create a logo of your own choice. 
Download and save
In the end, this free logo maker allows You to download your design and save it on your device for future use. 
Hatchful
This logo maker allows you to generate a bunch of templates in just a few clicks. It offers a very well-designed and easy-to-use interface. All you have to do is to select your business, then follow these simple steps:
Choose the category and pick the suitable look for your logo

Add the name of your site or brand

Share the purpose of your logo to get a relevant template list. 

Pick a template and make changes according to the needs of your company.

It allows you to download your logo in different resolutions.

This tool is free until you go for its premium version.
Canva
Canva is one of the best multi-purpose platforms that help you design images for Facebook, blog posts, Instagram, various websites, and logos. You have to pick a design from the available options and fill in all the information. It allows you to customize your designs to make your logo more attractive, and then you can download it in PNG, JPG, or PDF.
This logo maker provides its services without any cost; however, if you want to use its advanced features like professional icons and premium images, it will ask you to pay some amount per month. 
4.Smallseotools
Its online logo maker supports you to get a perfect visual representation of your company within a few moments. Moreover, it offers you the customization feature, and you can also alter the already available template as per your requirements.
It has several categories, so it will be easy to pick a template from the most appropriate variety.

It gives you the option of Design Studio's dashboard to add different shapes and designs.

It allows you to change the text or incorporate your brand's name with the text editing features.

After getting a logo design, you can enhance its appearance by adding a striking background. It has several background colors to make your logo prominent. 

At last, Your final design is ready to download. You can save it on your device to share it with your clients or to advertise your brand in the market. 
Tailorbrands
It is another finest logo maker which allows you to generate an impeccable design according to your style and preferences with available templates.

It offers a user-friendly interface with beautiful designs and powerful technology along with customization features.

You need to enter your business name and select a category from physical goods, services, leisure, content, and others. 

Make necessary changes in color, text, and design. 

Its result will be powerful and perfectly matches your company's branding strategy.

Once you are done, download, save and share it with the world
Conclusion
The logo maker online services discussed above are the best utilities you can find over the web. No doubt, designing isn't an easy chore. However, the aforementioned tools can surely make logo design a hassle-free task for everyone. The 24/7 availability of these online logo makers has given people the freedom to design an emblem whenever they want. You won't be restricted to access any of these logo makers from all over the globe. Moreover, with the help of any of these tools, you can create variations in your logo design to differentiate between various services or products offered by your company, just like FedEx. The users won't face any type of confusion while using these easy-to-use logo maker tools. The user-friendly interface of these platforms makes logo designing a piece of cake for everyone. Whether you know designing or not, you can easily create a logo with the help of online logo maker tools.