Today I want to show you a collection of galaxy, space and dark free Tumblr themes with goth and grunge feel. There are lots of free Tumblr themes on the internet and hard to find the perfect dark theme from them. I want to save your time and give you the best dark theme for free. You can download them and use for free on your blog. Dark Tumblr themes are really cool for those creative persons who want to showcase their writings and work in a different way. Lots of people like dark things because it indicates something deep and dark.
Dark themes are better for eyes and save our eyes from becoming sore. There are so many dark Tumblr themes out there and it's really hard to find the best for use. You should consider some basic features of your Tumblr theme to make sure you are getting the perfect one. I selected those themes and checked their functionality if they are useable or not. So every tumbler theme on this list is highly customizable and professional.
So, In today's post, I will discuss some galaxy Tumblr themes, space Tumblr themes, dark Tumblr themes, goth Tumblr themes and grunge Tumblr themes.
Must see…
Galaxy space dark Tumblr themes with goth and grunge Tumblr themes
1. Midday's Night dark Tumblr theme
Midday's Night is a very simple free dark Tumblr theme inspired by Lt. Colonel Guren Ichinose from the anime/manga series Seraph of the End. You can select of 7 post sizes from 250px to 540px to use on your blog. You can navigate your pages with pagination or you can use infinite scroll from the options panel of this theme. You can align your theme left, right, center as you want. Ther is a cool option has a small cursor. You can show or hide your tags and captions. There is an optional image fade and/or monochrome effects. You can use your sidebar on the left side or right side if you want, there is an option for this on the theme options panel. There is 180px width sidebar image but the developer recommends to use a large image for the slider.
Demo + Download
2. Dark Side Tumblr theme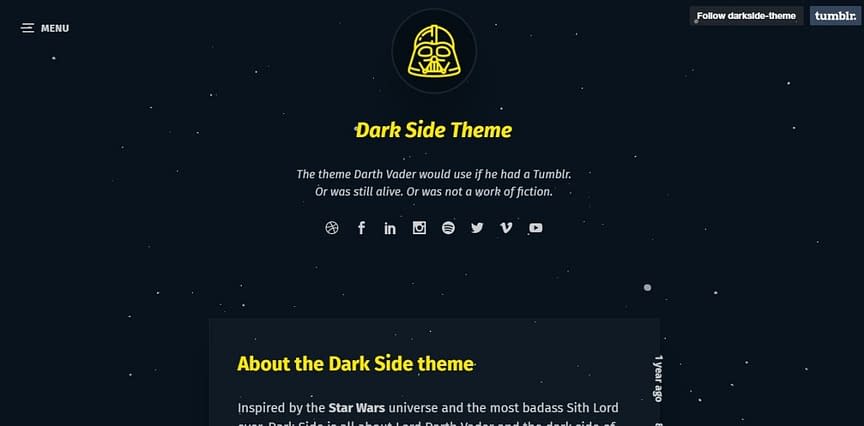 Dark Side is a responsive dark Tumblr theme with galaxy feel. This is one of the themes I love most. This Tumblr theme is Inspired by the Star Wars universe and the most badass Sith Lord ever. Dark Side is all about Lord Darth Vader and the dark side of the Force. There is a custom colors option in this theme function and you can change colors to add your own brand color. This theme is mobile responsive and it will perfectly fit in any kind of devices. There are many social media icons ready to use to link your social media profiles. You are also able to share your post with other social media platform. And you all you get for free because it is an open-source Tumblr theme. There are a lot of customization options to customize your theme and make it exactly as you want.
Demo + Download
3. Space Race free dark Tumblr theme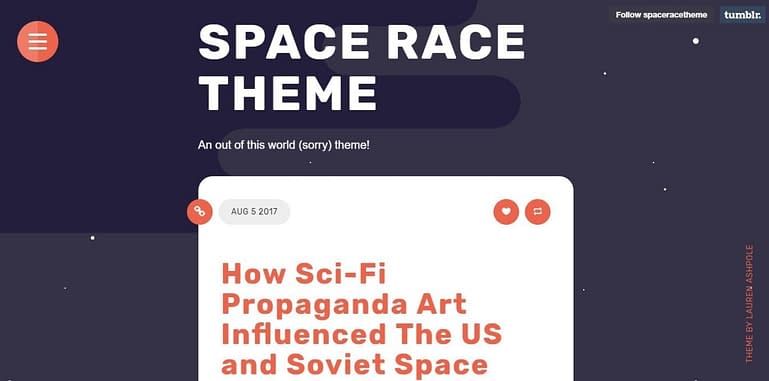 Space race is a responsive space Tumblr theme by some of space-related flat illustrations. This responsive space Tumblr theme support all latest browsers. There are some optional animated celestial objects like comets, meteors, satellites and you can use them on your blog exactly as you want. You can add custom fonts as the theme supports custom fonts. The theme is highly customizable and you can use your own custom colors if you want to use on your Tumblr blog. From option panel, you can choose between a single or double column layout. There are reblog and like buttons on the theme. There are some other great features on the theme to make a Tumblr blog outstanding. I can say this is a galaxy Tumblr theme with the dark layout.
Demo + Download
4. Simplistic Dark free Tumblr theme
Simplistic Dark is a high resolution responsive dark Tumblr theme. This Tumblr theme supports all kind of Tumblr posts. This theme is also highly customizable with an option to add custom colors. There is a nice navigation bar comes with the theme. The centered title with this navigation bar looks amazing. You can connect your social media profiles with a nice style. The theme typography is neat and clean. If you want to make your Tumblr blog elegant with the dark theme you can use Simplistic dark Tumblr theme for your blog.
Demo + Download
5. Portals Theme dark Tumblr theme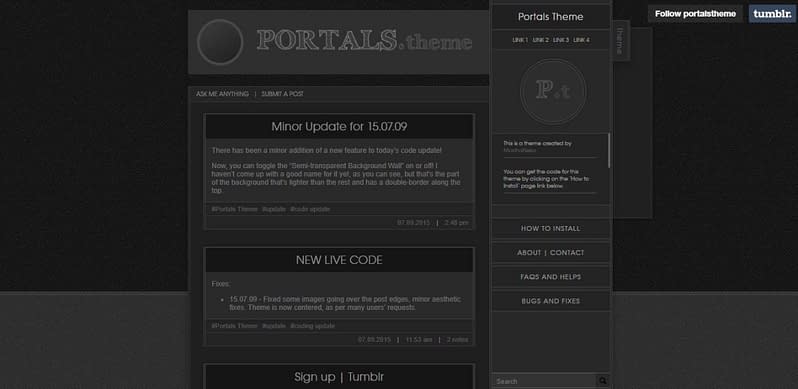 Portals Theme is a simple and sleek dark Tumblr theme you can use for free. This dark Tumblr theme created by MochaNeko. This is very easy to use and very attractive grunge Tumblr theme. I like the stylish sidebar of this theme, if you see this theme you will notice there is a different kind of sidebar in the theme that will totally blow your mind. You can use any custom image for background, header, and sidebar. The theme is smart about sections, it will auto resize any section based on the content of the section. In the bottom of the sidebar, there is a search bar. there are small audio players so that pages aren't stretched out unnecessarily.
Demo + Download
6. Black Roses & Goth Girl Tumblr Themes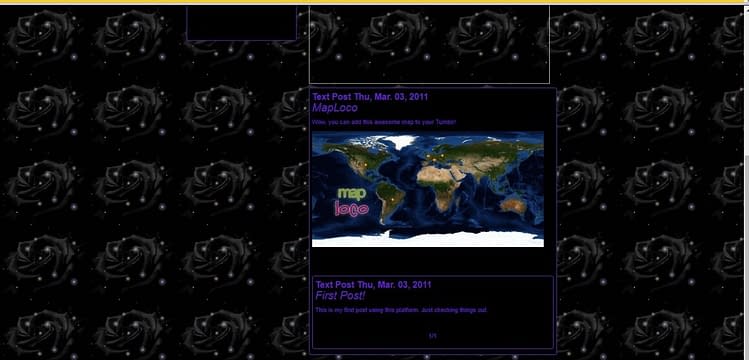 This is a strange gothic Tumblr theme. If you need any goth Tumblr theme you can try this theme. I am not sure if there is any better gothic Tumblr theme or not but I personally don't recommend this goth Tumblr theme for your blog. But the animated roses are really cool. If you want to give any gothic feeling to your blog you can use any kind of dark Tumblr theme and customize it as you want. You can use your custom colors and images to give your theme a gothic feel.
Demo + Download
7. Big Guy Tumblr theme
Big guy is a very beautiful Tumblr theme for those who want a large screen Tumblr theme. This customizable Tumblr theme will give full control of your Tumblr blog.
Demo + Download
8. like-thunder-inthe-sky
This is a very strong minimalist Tumblr theme with lots of stars. This will give you space tumblr feel. If you want to give your Tumblr blog a galaxy look you can use this space galaxy Tumblr theme. And it's possible to turn this theme into your own by customization.
Demo + Download
9. Spire Tumblr theme
Spire is a free responsive Tumblr theme with all options you need to make an outstanding Tumblr blog with a dark Tumblr theme. This professional looking Tumblr theme will help you to grow your blog with a professional look.
Demo + Download
10. LSD Tumblr theme
LSD is a psychedelic and adventurous premium Tumblr theme that supports all post types on any screen size. Perfect for portfolios and visual mood boards.
Demo + Download
This article was about free galaxy space dark Tumblr themes with goth and grunge Tumblr themes. Which theme do you like most? Do you still prefer to use Tumblr for your personal blog?