Starting an online e-commerce project takes a lot of time, and using a customized Shopify theme, you can save plenty of time, money, and effort. If you want a site that will load quickly, have a professional and attractive look, and be good with search engines, then you need to look at the best minimal Shopify themes.
There are many advantages to using a minimalist Shopify store, and there are some great options available to choose from. There are many reasons why your Shopify store might want to use a minimal theme. They don't use long lines of code. That's why they are quick to load, and this can help you rank highly on search engines like Google. With one of these Shopify minimal themes, you can give your visitors a good experience that will convince them to keep on shopping and convert with you. The good clients' experience is also a great marketing benefit for you. And it is vital for the success of small eCommerce businesses. The white space will also help with the branding of your online project. Many consumers consider websites with plenty of white space as more trustworthy.
So, what Shopify minimal themes do I suggest? Here are some of the best and most attractive things you can get today.
1. COZE – A Minimalist Shopify Theme
COZE is a beautiful, simple, Shopify minimal theme that can help you get noticed. Its beautiful and clean design is perfect for any clothing store, bookstore, and accessories store.
COZE theme is minimalist, but it has some powerful design elements that make it great for those who want to customize their website. It has the product filters that can display products based on colors, sizes, and other identifiers you want to add. The cart, products, and pages are displayed using AJAX. And there is a quick shop feature to help convert your visitors through a streamlined purchasing experience.
Whenever visitors are looking at their favorite product, they can share it on social media channels to attract more visitors to your website.
Highlights:
Section Drag & Drop Page Builder
SEO-friendly
Add To Cart Popup
Instagram shop
Google maps integration
A fully responsive design
24/7 support
2. Grid – Minimal Shopify Theme

Grid is a beautiful minimalist Shopify store theme that can offer a small eCommerce online shop tons of powerful options to attract the audience, generate traffic, and sell.
This theme includes a unique sidebar designed specifically for savvy shoppers and store owners. The collection list functionality lets the customer gather all the products he likes into a collection, and AJAX shopping cart has a preview functionality without going to another page. You can adjust your homepage with different content sections to add the description and products you want to showcase in the right places. The final design will look perfect on any device thanks to the mobile-friendly design.
Highlights:
Collage-style layout
Sidebar menu
Product quick view
Slideshow
Infinite scrolling
Quick buy
3. Uniqlo – Minimal Shopify Theme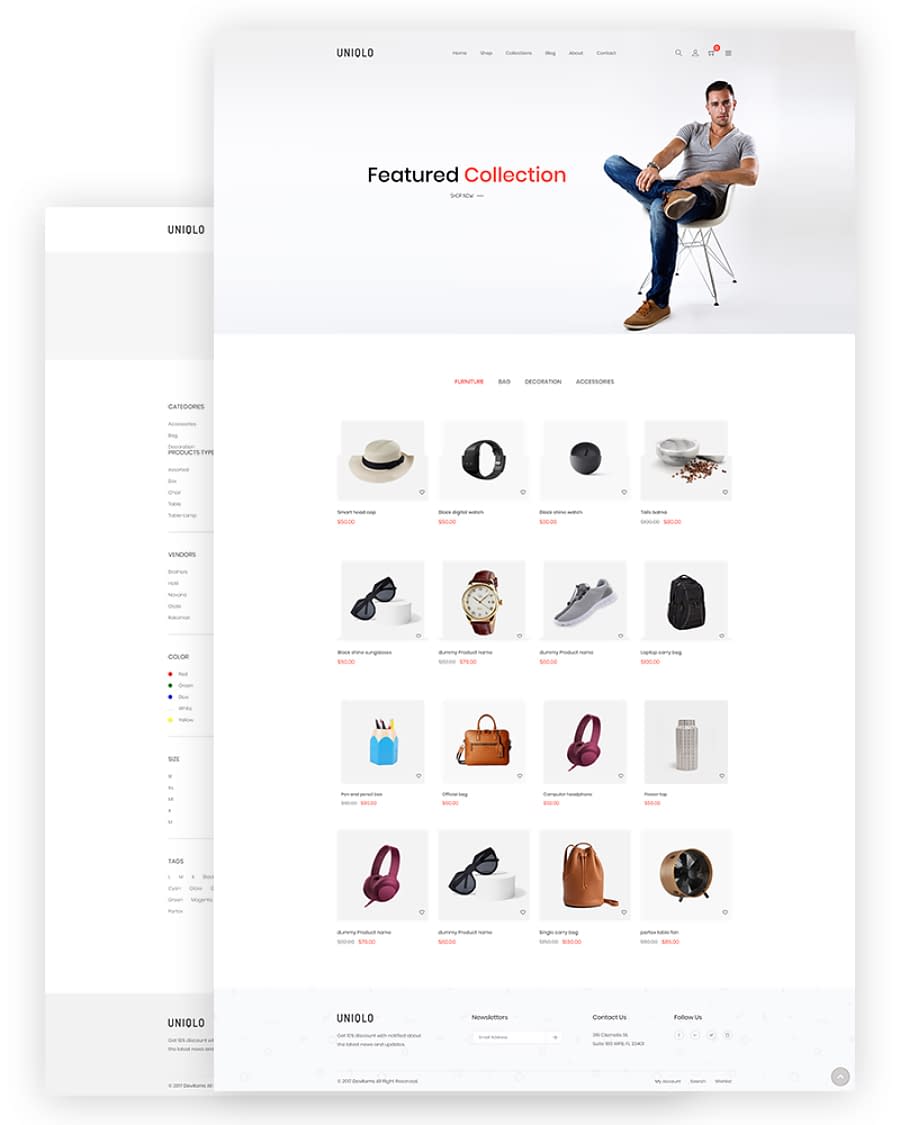 Uniqlo is another minimalist Shopify theme that offers you a responsive design to your audience. It includes a powerful collection of tools to help you promote your website and convert visitors. This template has many styles to choose from, and these are all designed for independent retailers. And if you're selling custom-made products, this theme is going to be great for you.
Due to other Shopify minimal theme customization, user navigation helps with a multi-level menu option. You can create the home page in a long-form that makes the most of the page. The content blocks are built with raws, which can be changed in any way you want them. Its layout can be further enhanced thanks to the slider than can contain product or brand images.
Features:
Valid HTML5, CSS3
Creative and Modern Design
Unlimited Color Variation
Faster drag and drop
Fully Responsive
Cross Browser Optimization
Google Fonts
24/7 support
4. Kingdom – Shopify Theme
Kingdom is one of Shopify minimal theme examples specially designed for professional online stores. The theme features a beautiful image slider, several product styles, unlimited color options, as well as the option to publish multimedia content.
This Shopify theme includes multiple widgets, built-in customization options, a gorgeous lookbook, and many more features. Kingdom also allows you to add video in the slider and includes social sharing features.
The professional design impresses, causing associations with pleasant product quality and a high level of service. There is a product valuation functionality so that your potential client could see the best offers immediately.
Features:
Optimized for large images
Versatile sidebar area
Grid-style layout
Story-focused product pages
Quick link contact bar
Customer testimonials
5. Similux – Minimal Shopify Theme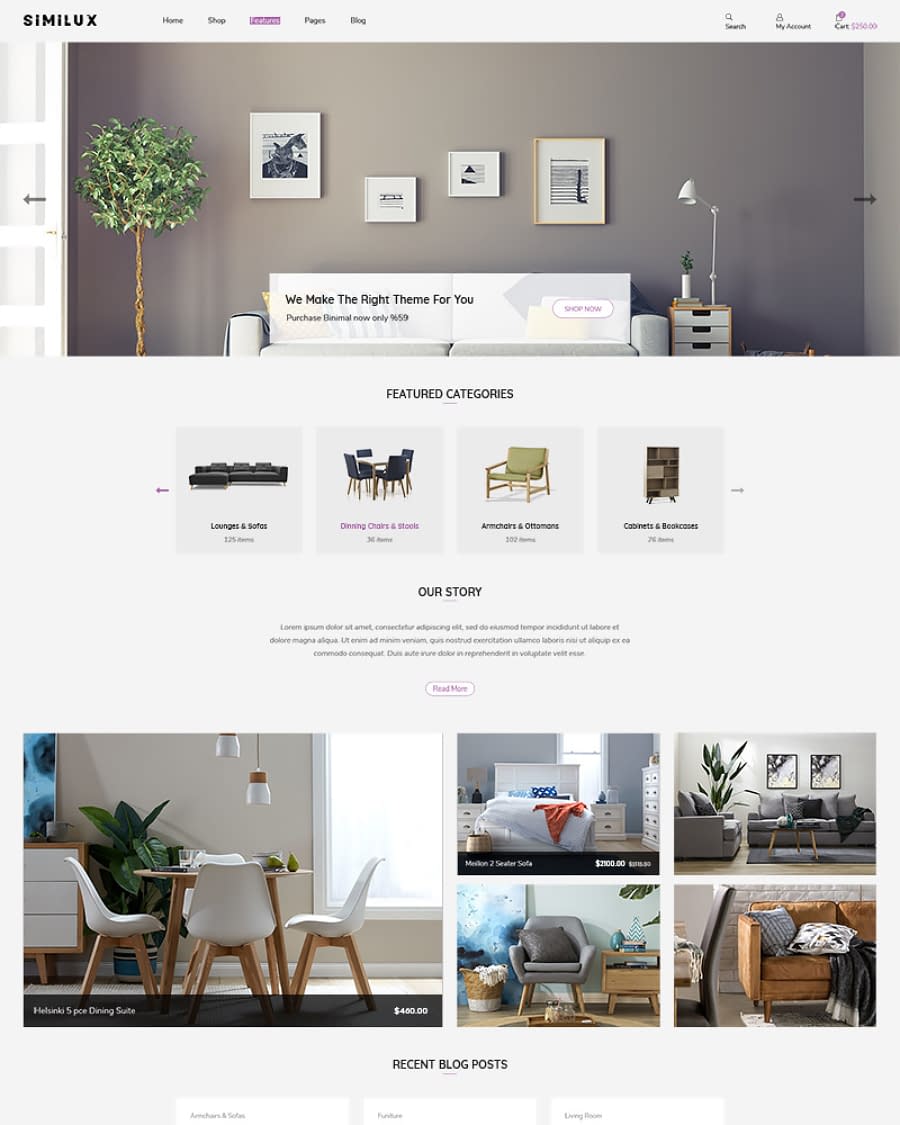 Similux is a minimalist Shopify theme, suitable for an online furniture store, wood products, household goods, equipment or inventory, and more.
Similux for an interior designer with the ability to showcase your portfolio not only attracts visitors but also becomes a promotion tool through advanced SEO optimization. This theme has a Shipping policy and calculator and looks great at every browser, thanks to cross-browser compatibility. The main menu is simple and understandable. This theme has a great and attractive look in both desktop and mobile versions. All elements look clean and stylish; nothing in the design is annoying. Also, the website can offer related products.
Main features:
Lots of sliders, banners, headers, etc.;
Ajax cart;
Contact form;
Google fonts and maps;
Multicurrency;
Popup mailing;
Adaptability and cross-browser compatibility;
24/7 support.
6. Cascade – Shopify Theme
Cascade is a beautiful Shopify minimal theme that can off to a small eCommerce store tons of powerful features to build an audience, generate traffic, and sell. The design is simple, clean, and pretty. The layout is well optimized for display on mobile devices. You can adjust your homepage with different sections to add the products and promotional offers in the right places. The final look of your store will be beautiful and will display well on any device thanks to the mobile-friendly design. This Shopify theme includes a sticky menu that will remain at the top of the user's browser depending on how far they scroll down. The menu can also be changed, so there are different layers to help visitor navigation.
The theme is search engine friendly, so there are good chances to reach higher rankings in Google.
Main features:
Narrative-focused design
Color schemes
Product feature highlights
Optimized for large images
Multi-column menu
Unique product grid
Drop-down navigation support
Built-in styles and color palettes
Free theme updates
Free stock photos by Burst
7. MINTEE – Minimal & Clean Fashion Shopify Theme
This fabulous Shopify theme is a perfect choice if you run a small fashion store. This theme is optimized for large products, high-resolution images so that you can showcase your products and services to your potential clients.
To help with user navigation, it has a sticky menu. So, when the visitor explores the website, the menu will stay at the top of the browser. And it gives a great addition to help audiences get around your site quickly and without fuss. For product display, you can allow customers the choice to filter displayed products based on several factors, including type, best sellers, and price.
This theme is fully optimized for mobile devices so that it will look great on devices of all screen sizes. You'll also be able to rank the site on Google and other search engines, thanks to a lovely clean code that Google will love.
Theme features:
Automatic Price Change
Flexible Built-in Mega Menu
Quickview Product Colors
Smart Product Quickview
Advanced Layered Navigation
Unlimited Google Fonts
Header & Footer Style Options
Unlimited colors
24/7 support
8. Atlantic – Shopify Theme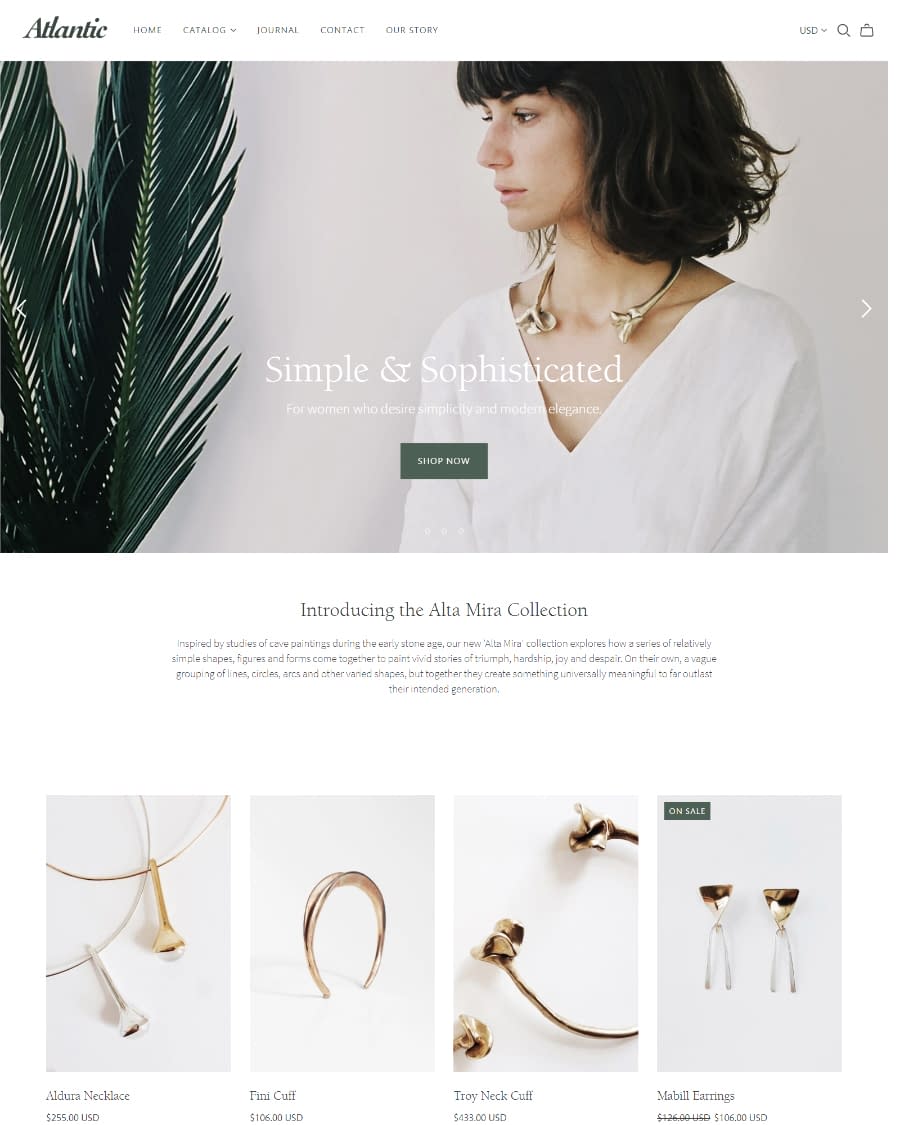 Atlantic is targeting store owners who wish to promote or sell their fashion-related items, where the spotlight is given to each product individually. This stylish and attractive, but minimal Shopify template looks great on mobile devices and desktop. The first thing that you will find is the huge slideshow on the homepage. It's big enough to promote anything in a way where users will feel inclined to check out the product more.
Whether you're a newbie to using Shopify or not, the good news is that you can set it up in your store very easily. Once you've imported the .zip file, you can then start uploading the photos of your products and customizing other visuals and text. You shouldn't worry about whether smartphone users can shop at your store either, as this theme is fully mobile responsive to manage screens of all sizes.
Highlights:
Built for large catalogs
Multi-column menu
Slideshow
Quick buy
Modular-style home page
Home page video
9. DIER – Minimal & Clean Fashion Shopify Theme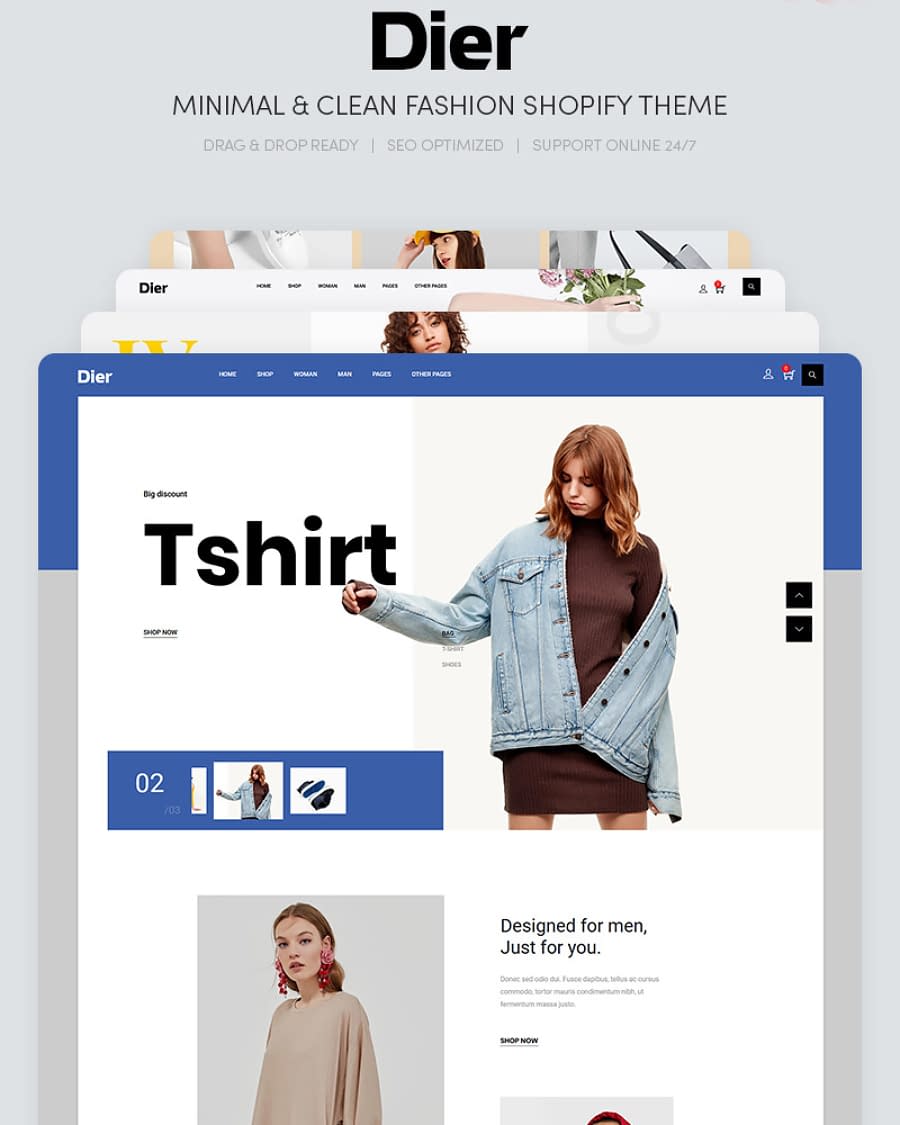 If you're looking for simple and clean, DIER is a Shopify minimal theme you can't go wrong with. It offers multiple styles. DIER comes with everything you need to sell retail products, but it also shows its flair for selling digital media. Its product image zoom feature is one of those features you don't think you need until you have it.
There's also some excellent product filtering system on the product pages of the template. So, users can select that they'd like to see a specific category or maybe only look at your best sellers.
The final standout feature involves a related product module. If the client is considering whether to buy a product or not, they'll see a module of upselling goods towards the bottom of the page. It not only helps with your sales but guides the customers through the purchasing process.
Theme features:
Powerful Customize
Automatic Price Change
Flexible Built-in Mega Menu
Quickview Product Colors
Advanced Layered Navigation
Unlimited Google Fonts
Header & Footer Style Options
Unlimited colors
SEO Optimized
10. Pipeline – Shopify Theme
Pipeline is a minimal Shopify eCommerce theme with pre-built designs and a layout builder tool.
If you want to get your store online as quickly as possible, then one of the Pipeline's Shopify designs is sure to match your needs.
Using either the drag-and-drop builder or the drag-and-drop header layout designer, you can quickly start creating a custom store with the Pipeline theme. There's also a useful tool for creating a unique footer area for your e-commerce shop. Customizing the colors, managing a mega menu, and adjusting the product layouts are some of the parts of your store, you'll have good control over with this template.
The live search feature will be on hand to help your visitors to find what they want, while the quick view feature gives your visitors a simple way to view your products and goods. Adding the chosen items to their shopping carts is easy, too, thanks to the AJAX powered functionality that decreases the need for excessive page loads.
Main features:
Built for large catalogs
Multi-column menu
Modular-style home page
Optimized for large images
Parallax effect
Advanced product filtering
Wrapping Up
Running an online shop is a profitable and exciting business venture. However, it shouldn't be taken lightly as something can go wrong if you get off on the right. Your e-commerce page design is a crucial element to your eCommerce success and should be done right the first time. So when you're looking to get one of the premium Shopify themes for your online project, you want to be sure it will perform well. The ones above are classed as some of the best for Shopify because they are all fully optimized for all devices and have great SEO potential. They all have different features that you will want to compare to ensure you're installing the best theme for your online store.
If you want to check other eCommerce options, check out these articles below: