Squarespace is a great website builder for bloggers. If you want to make a blog website with Squarespace I am here to help you today. I will provide a complete guide about Squarespace blogging, how to start Squarespace blog, is Squarespace good for blogging and why Squarespace is great for blogging.
It is very easy to make a blog website on Squarespace but if you are still confused about what to do, trust me it's easier than you think.
I have used many website builders to create websites for my clients and personal business/blog. Till Squarespace is one of my favorite website builders. If it's about blogging and you are a non-techy person then there is no other better option than Squarespace.
There are many stunning Squarespace templates for blogger, you can select your favorite one and use on your website. If you are thinking that creating a blog website is very hard and needs lots of work then you are wrong. Nowadays technology has become advanced and things become easier. Blogging with Squarespace is also easy, you just need to follow today's guide and learn how to start a blog using Squarespace.
You may also like…
Squarespace Templates for Bloggers
Is Squarespace good for blogging?
Yes, but not only Squarespace is good for blogging, its great! You write blogs for readers and want more readers to read your posts, right? If you can rank your blog on search engines then you will get huge visitors from search. Squarespace is a search engine friendly website builder, loads super fast even your content is heavy. You can make an attractive blog interface by using drag and drop feature.
It's easy to set up a blog website using Squarespace which will save you time.  You don't have to do any course and waste time to learn this CMS. If you try it yourself you will understand everything in a short time. You don't need to hire anyone to manage, update, post blogs for your website. If you want you can do it yourself.
Benefits of blogging on Squarespace
Easy to use: Squarespace is easy to use CMS(content management system). Anyone can use it without any advanced computer knowledge. If you know how to use facebook, how to post an update on your timeline you can also manage a blog on Squarespace.
Responsive: Every website on Squarespace is responsive. If you build your blog on Squarespace you don't need to worry about the responsiveness of your Squarespace blog. It will perfectly fit on any kind of device.
Drag and drop builder: You may already know that Squarespace is a drag and drop website builder even this feature will work on any single blog post also. You will able to make and customize your post layouts using the Squarespace drag and drop feature.
Search engine friendly: You are going to blogging with Squarespace then you definitely want to rank on search engines. Squarespace is 100% SEO friendly which will help your blog rank higher on search engines.
All in one: Squarespace is all in one website builder that means you will get everything you need on your website from Squarespace. You will get a domain, hosting, website builder as well as blogging functionalities and eCommerce features. You don't need to use any third-party service or apps on your Squarespace website.
Squarespace Pricing plan

You will get 14 days risk-free trial account form Squarespace to create a website free and see how it works. But if you want to publish it or connect your domain you will not able to do with trial version website. You have to buy a package from Squarespace. Let me explain Squarespace pricing, you will understand which package will be best for your website.
Personal plan ($12/month): This plan is ideal for basic personal websites. If you want a few pages on your website then you can use this plan. You can make a Squarespace blog website with this plan but you cant sell products through your website if you are using the personal plan.
Business plan ($18/month): This plan is best for business websites. If you have some products and want eCommerce functionalities on your website then you can use this plan for your Squarespace website. But Squarespace will cut a 3% transaction charge from every sale.
Basic Commerce plan ($26/month): This is the plan for a complete eCommerce website. You will get full-featured eCommerce functionalities with this plan. Squarespace will not cut any transaction fees for any sale.
Advanced Commerce plan's ($40/month): Best for large scale eCommerce website with many advanced features.
You should visit the Squarespace pricing page to know more about Squarespace pricing. So now the question is which package is best for Squarespace blogging? At first, I would recommend you to start your Squarespace blog with 14 days of free trial. During the trial period finish designing your Squarespace blog website and try to figure out if Squarespace is good for blogging or not.
Before start blogging with Squarespace
Blogging with Squarespace is very easy but you should consider a few things before start blogging. If you have a question in your mind 'how to start a blog with Squarespace' the answer is easy, but if you want to grow your blog and become successful it's not so easy as every beginner think, but if you do it perfectly then you can do it. Before starting Squarespace blogging you should research more about your blogging niche. Remember there are millions of blogs out there and if you want to stand out from them you have to do something unique and professional.
Select your blog topic and research: You have to select a blog topic that people are looking for. And you must be passionate about that topic. If you already selected your blog topic then it's great, but don't forget to analysis the competition and research keywords. A successful blog depends on selecting niche and keyword research. If you can do your research properly it will be easier to grow faster. You can use ubersuggest free keyword research tool to research your Squarespace blogging niche.
Select a brandable domain name: Domain name is the identity of a website. You should select a brandable domain name for your Squarespace blog website. The domain name should be short, simple and easy to remember. If can be your name or your company name. Don't use any big or spammy type domain name for your Squarespace blog.
How to make a Squarespace blog website
Now I am going to make a step by step guide about how to build a Squarespace blog website. Blogging on Squarespace is not hard and you don't need to be a technology expert. If you have basic knowledge about websites you will able to make it. Follow this Squarespace bogging guide to make your next Squarespace blog.
Step 1: Select a template for Squarespace blog
If you already have a Squarespace website this is great if you still don't have an account, create one and log in to your account. Now click on the button create a site, you will land on the Squarespace template page.
Every Squarespace templates will allow you to make a blog website. You have to select the best suitable blog template for your Squarespace blog. If you click on the Blog and Podcasts tab you will see some templates specially made for Squarespace blogging. NATIVE, SKYE, RALLY, TUDOR are some great templates for Squarespace blogger. Preview template and see if the template is the perfect fit for your Squarespace blogging. I personally like the RALLY template for Squarespace blogging.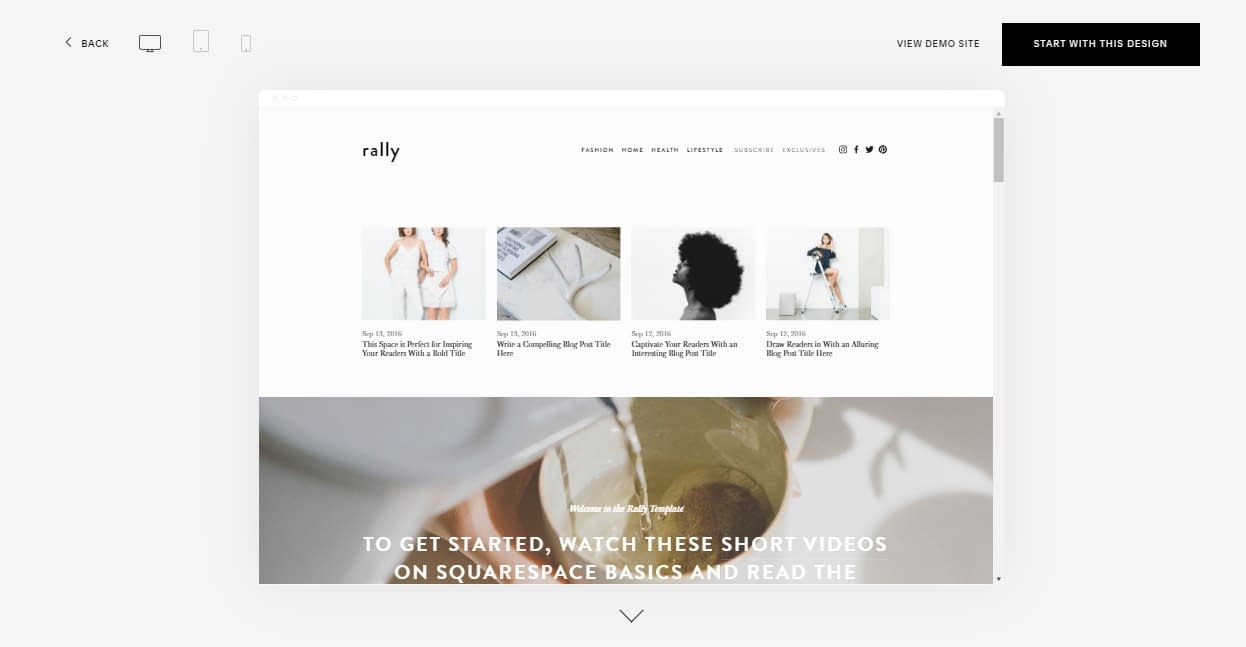 Now click on the Strat with this template button. The template is installed on your website.
Step 2: Add Logo & title
You have selected the Squarespace template for blog, now this is the time to customize the template and make it ready for lunch.
Logo: Click on the Design tab from the sidebar then click on Loge & Title to add a unique and professional logo to your Squarespace blog website. Remember, Logo is the most important element for branding and you may know that branding is important for Business. You can design your own logo or hire a professional logo designer to design your Squarespace blog logo. Squarespace has a logo design tool, by using this Squarespace logo design tool you can make a logo for your website easily.
Title and tagline: Add the title and tagline of your Squarespace blog website. The title will be displayed on search engine search results.
Step 3: Create pages for your Squarespace blog
Make a landing page/homepage: Now you have to create essential pages for your Squarespace blogging website. First, create a landing page for your blog and try to make it professional. I will suggest you add featured posts on the homepage. You can also add different sections to add different categories of posts.
Make an about page: If you want to grow your business through Squarespace blogging you must have to grab the trust of visitors. Try to make your about page professional and describe about yourself and your experience. It will help you to introduce yourself to your visitors.
Make a contact page: Some people can be interested to buy your services or ask help from you and they will find a way to get in touch with you. A contact page is very important to keep the communication with your blog readers.
Add category pages: You can make different pages for different categories of your blog. It will help your Squarespace blog to improve user experience. Visitors will able to easily navigate your website and read valuable articles from your blog.
How to create Squarespace pages?
Creating pages on Squarespace is super easy. Click on the Pages tab from the Squarespace sidebar then click on the + sign to create a new page. If you want to make a simple page then you can start with the blank page. If you want to have different sections on the same page then you should click on the index tab to start creating your page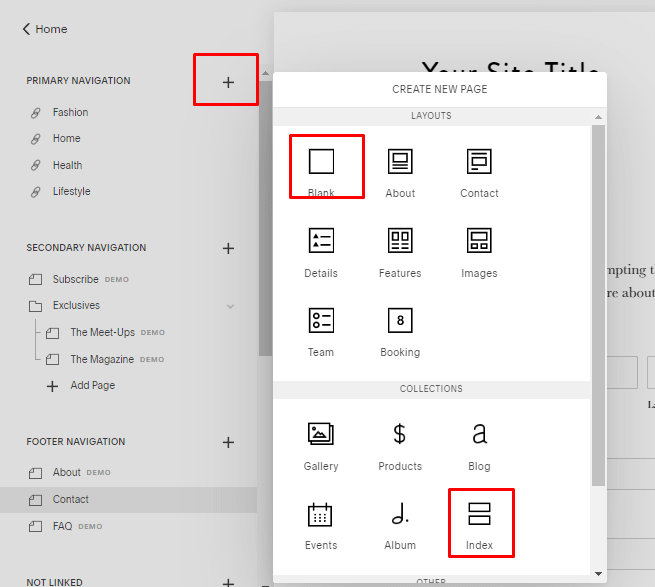 After creating a page you have to configure your page by clicking on the settings icon.
After clicking on the icon, a popup window will appear.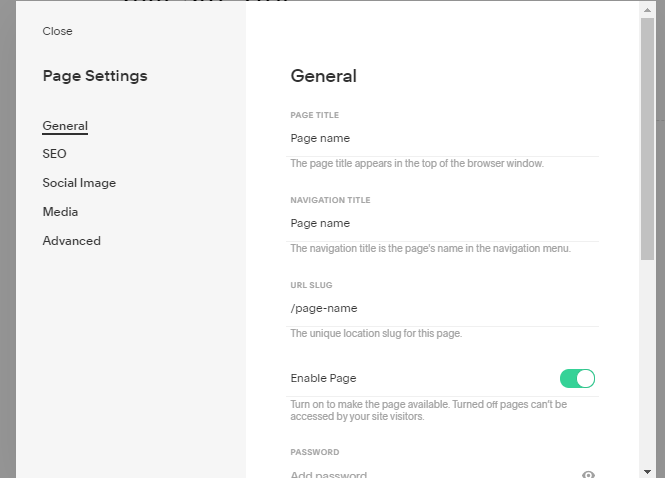 From here you can add your page title, page navigation name, page URL, etc. If you do you it yourself you will understand everything easily.
Step 4: Add Blog to your website
Now, this is the time to add a Blog function to your Squarespace website. Adding a blog on Squarespace is simple. Head over to the Pages tab then click on icon + and add the blog to your Squarespace.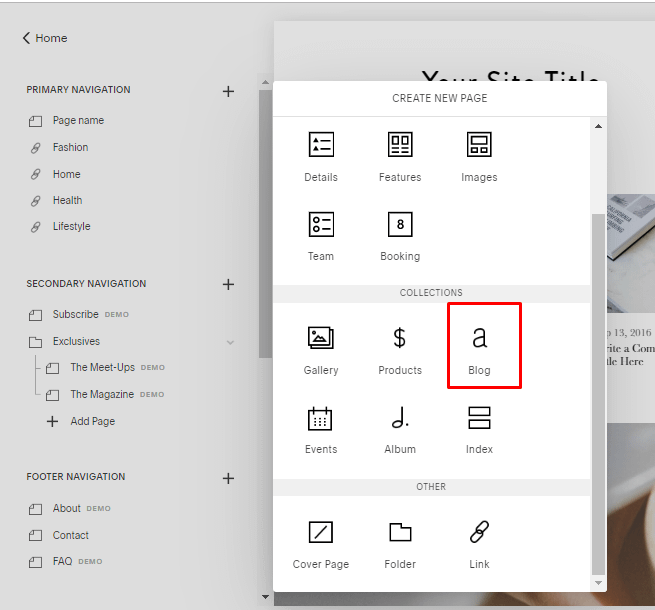 After adding a blog function to your Squarespace website will have an option to configure your blog page. If you click on the settings icon the blog configuration option will pop up.
Under Basic Settings, you must check the blog page title and URL to ensure they are SEO friendly and relevant to the page.
Under the Advance settings, you can configure some more things like post display, you can display your full post on your blog page or just title will except. I will recommend you to use except rather than a full post.
Step 5: Adding a blog post
I think now you understand how you can make a blog website on Squarespace and now this is the time to start blogging with Squarespace.
You have to blog function on your website, go to that tab and click on + icon to add a new post.

A new post editor pop-up window will appear. The editor will something look like this.
Every option here is very easy to understand. Add a catchy title to your Squarespace blog. Start writing your first blog post on Squarespace.
You can style your blog post in your own style and its very easy to do, that's why I love blogging on Squarespace. If you want to add any block inside your article just click on the icon(image mentioned blew) an add your desired blocks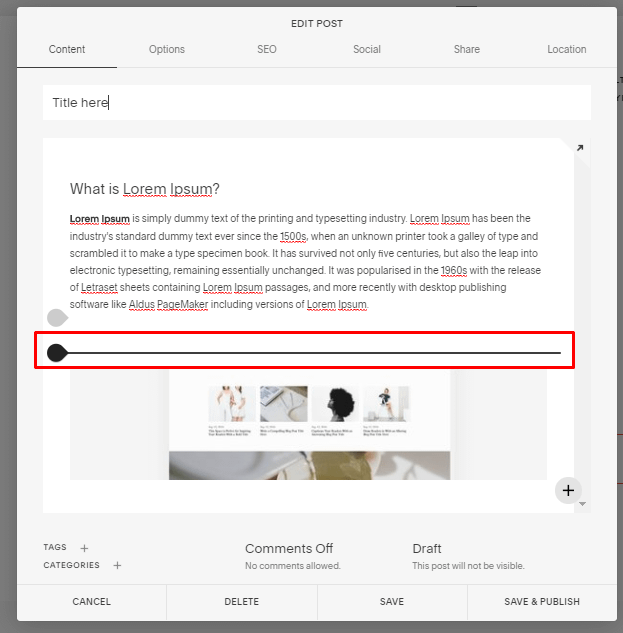 .
Options: In this tab, you will see some features for your blog post.
At first, add a custom thumbnail to your blog post which will appear on your archive pages and work as a feature image.
Set an SEO friendly URL
Add except to which will display on archive pages.
You can make the post featured
SEO: Here you can set your search engine result display title and meta description.
Social: Add an image which will be displayed as a featured image on social media if you share the post.
You can also try share option to auto-update about the post on social media or add location.
If everything is ok, now publish the post.
With only one post you cant give a complete look of your Squarespace blog. Try to make more post and then customize your Squarespace blog website to give a professional look.
I hope today Squarespace blogging tips will help you with how to make a Squarespace blog easily. If you face any issue to make your Squarespace blog don't forget to comment here. I will try my best to help you. Best of luck for your Squarespace blogging.