When way back in 1895, John Deere published one of the world's first magazines, little did he know that it would become a wonder. Why?
It was a magazine born generations before the term 'digital content' was coined. 
That's the power of digital content! The same holds for ecommerce businesses!
Today, ecommerce is not only about improving the interface and usability of your online store; it's more about educating customers and potential customers at every point in their journey, from query to final payment. You can achieve this by expanding your digital content. 
Apart from nurturing customer relationships, expanding the reach of your content can help you amplify your SEO. Though the process may seem overwhelming, you can get started with the right set of tools in your arsenal.
Let's dive in!
Top 6 Software Tools to Expand Your Ecommerce's Digital Content
Content was, is, and will always remain the king even for ecommerce. Whether you use a single product Shopify store or multi-product store,  to kick things off, we have listed six tools that will help you expand your online store's digital content.
1. Happy Scribe – Transcription tool
Are your product-explainer or product launch videos on YouTube not garnering enough traffic? It's hard to get views and likes on YouTube. Why? Google doesn't index YouTube videos. 
To increase Google indexing, you can transcribe YouTube videos to text. Use this text to create a blog post and tweak it to include keywords relevant to your product. Tools like Happy Scribe can convert your videos to SEO gold. This tool uses automatic transcription technology along with professional transcribers to convert your videos into quality text. Interestingly, it can transcribe videos into the most commonly used languages ranging from English, Spanish and Russian, to name a few.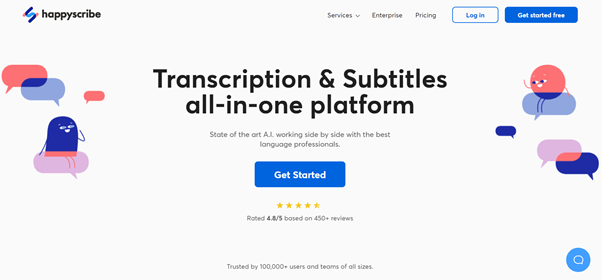 When an online store repurposes their videos into blog posts, they drive more traffic and leads to their store. 
Pricing: €0.20 / minute for automatic transcriptions and professional transcriptions start from €1.70 per minute.
2 .Mailchimp – Email marketing tool
For an ecommerce business, email marketing is not about blasting the crap out of your database for the sake of engaging customers. It's about building relationships. Today, in this digital landscape, email marketing is probably the only marketing channel that offers guaranteed delivery to a customer's inbox, provided you use a reputed email marketing tool like Mailchimp.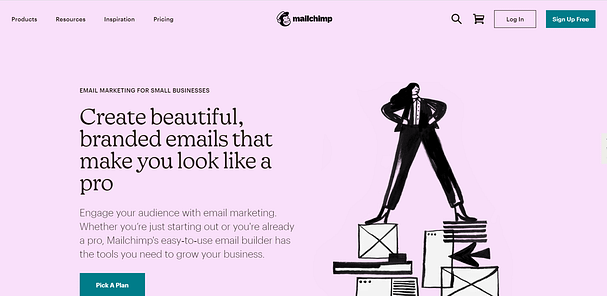 Apart from helping you write, design, and send powerful emails, it incentivizes your customers to purchase. For example, using Mailchimp, you can set automatic reminders for visitors who leave your ecommerce store without making a purchase or abandoning their cart. Using this tool, you can create a compelling email marketing strategy. To ensure your subscribers always thank you for your emails, create your email content strategy using the following ideas.
Share employee's stories

Offer free media content to engage subscribers

Share influencer's stories

Share detailed product explainer video

Create excitement with a subscriber-only wait-list for a shopping festival

Give subscribers a sneak-peek into your new products

Remind customers about their abandoned cart
Using Mailchimp, you can increase your business and have real-time access to your content and marketing campaigns. 
However, when you're building a new email strategy, ensure you give importance to the safety of your customer data. Use California Privacy Rights Act guide to get a detailed overview of ensuring data safety. With customers becoming sensitive about sharing their personal data, you need to comply with data privacy laws to prevent getting sued for hefty lawsuits.
Pricing: Offers a free plan, and their Core plan is chargeable every month.
3. SparkToro – Topic research tool
Ecommerce content marketing is a tough nut to crack, and that's why only a few ecommerce sites do it well. A majority of ecommerce sites start a blog and share a few company updates before calling it a day. 
It isn't enough! Blogs still remain the best way for ecommerce to expand their digital content. From new product announcements to product pushes, a blog can accomplish different goals – only if your blog delivers value. 
And, for understanding what will resonate with your target audience, you need a topic research tool like SparkToro. Using this tool, you can come up with a host of potential ideas around your core topic within minutes. Just enter a topic to see the related articles/blogs and questions asked by customers in real-time. Also, SparkToro can crawl tens of millions of web and social profiles to understand what your audience is reading.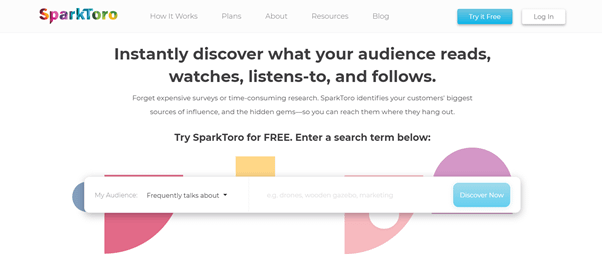 A topic research tool discovers what your audience reads, listens, watches, and follows. The more blogs you create around your target audience, the better success you will enjoy. 
Pricing: Offers a free plan with ten searches per month. The Starter plan starts at $38 per month.  
4. Canva – Visual content creation tool
Have you come across these statistics?
90% of the information that our brain transmits is visuals

The human brain can process visuals 60,000X faster than text

Human eyes can register 36,000 visual messages per hour 
With these statistics in mind, you cannot underestimate the power of visuals on your customers. Including visuals in your ecommerce website, emails and blogs can help you create more engaging content. This is because visuals can help words carry their weight, and a reader can consume your content without feeling overwhelmed. 
That's where visual content creation tools like Canva come in. It's one of the best design platforms for both creative and non-creative people. From stunning infographics to captivating social media graphics, Canva allows you to work flawlessly, even without an experienced designer. 

Pricing: Offers a free plan and their Pro plan starts at INR 8,900 per year. 
5. Catsy – Product inventory management (PIM)
Today, ecommerce businesses rely heavily on PIM software because it works as the single source of truth. How?
It creates, manages, and shares consistent product information across all your sales channels. This increases your customer's product experience in omnichannel. Many PIM software like Catsy provides a user interface to create compelling content. Rather than creating product information on every platform, this tool allows you to create one set of product content and distribute it everywhere. 
Since the PIM will have all information related to your products, including product description, details, and product explainer videos, it's easy to string this data together to expand your content. It acts as a content management system (CMS) and helps you create content that results in a superior customer experience. Also, Catsy offers excellent digital asset management (DAM) capabilities that allow you to generate content with beautiful visuals. 

Using Catsy, you can create banners, brochures, catalogs, infographics, brand images, and rich media that exemplify the product's promise to your customers. 
Pricing: Quotation based plan
6. Uberflip – Content experience tool 
Content experience platforms are slowly gaining traction in the digital world as a means of managing content. Unlike a CMS, a content experience tool gives the control back to marketers to create compelling content. 
But what is content experience?
Content experience answers an age-old problem of creating and delivering a dynamic content experience to customers on any device. One such content experience tool which can take your ecommerce content to the next level is Uberflip. Unlike content marketing, content experience gives weightage to how your customers consume and interact with each other. It's more about the way you deliver content to your customers right from the first touchpoint to the final purchase. 
Undoubtedly, Uberflip is one of the leading content experiences that can take your content experience and digital content to the next level. It's an ideal tool for managing every type of content you want to share to grow your ecommerce business. Interestingly, this tool allows you to create a content hub and enables you to decide-enabling content that encourages a buyer to purchase. 
Pricing: Quotation based pricing

Bringing it all together
Expanding your ecommerce's digital content isn't a piece of cake, but it's important.
Rather than creating 'push' techniques where you push content unnecessarily down the throat of your customers, focus on the 'pull' technique where you share amazing content that makes a customer visit your online store again and again. 
Creating killer content that resonates with your audience is one side of the coin; you need different tools to amplify its reach. Today, simply slapping a blog post about a trendy topic will not work in your favor. You need to unleash your creativity and present content in a readable and digestible format to your target audience. That's why online stores are investing in tools to expand their digital content. 
While there is a no-one-size-fit tool for amplifying your content, these six tools are a great start. While these tools will never replace the content creation skills, they can take your content to the next level.
Which of these tools captured your attention? Do you think we missed out on a fantastic tool? 
Share your thoughts in the comments section!
FURTHER READING