Some freelancers think they are the only ones doing their job and are convinced that they have to be appointed as a freelancer of the year. Slogans like "incredible design for exclusive customers" or "writing incredible stories" will not give you any benefit. The truth is that a bit like in love, customers face some failures before finding out what they want and who can provide them with this service/product.
If you are a developer, say it; if you are a translator, say it. If someone wants to hire you for a big project, they need to get an image of you: are you reliable? Are you trustworthy? Do you have a good work ethic? What are the fundamental parts of your personality that make your work unique?
The type of freelancer you are emerges from the story you tell through personal branding and self-promotion activities.
Define who you are and what you offer and communicate it to people. Find a way to tell what kind of work you can offer, what your past works have been, what the objectives and peculiarities were, how you carried them out, and what result you achieved. You can tell your story through the contents of your blog or on social media or through testimonials – find out which channel is best for you. But try to be smart and make sure that the union of all these elements tells a good story about who you are and why they should choose you over others to do a job.
In this article, I will discuss about Upwork vs Fiverr. You will able to decide which is the best freelance platform for you.
Upwork vs Fiverr: Features and Benefits 
What is Upwork?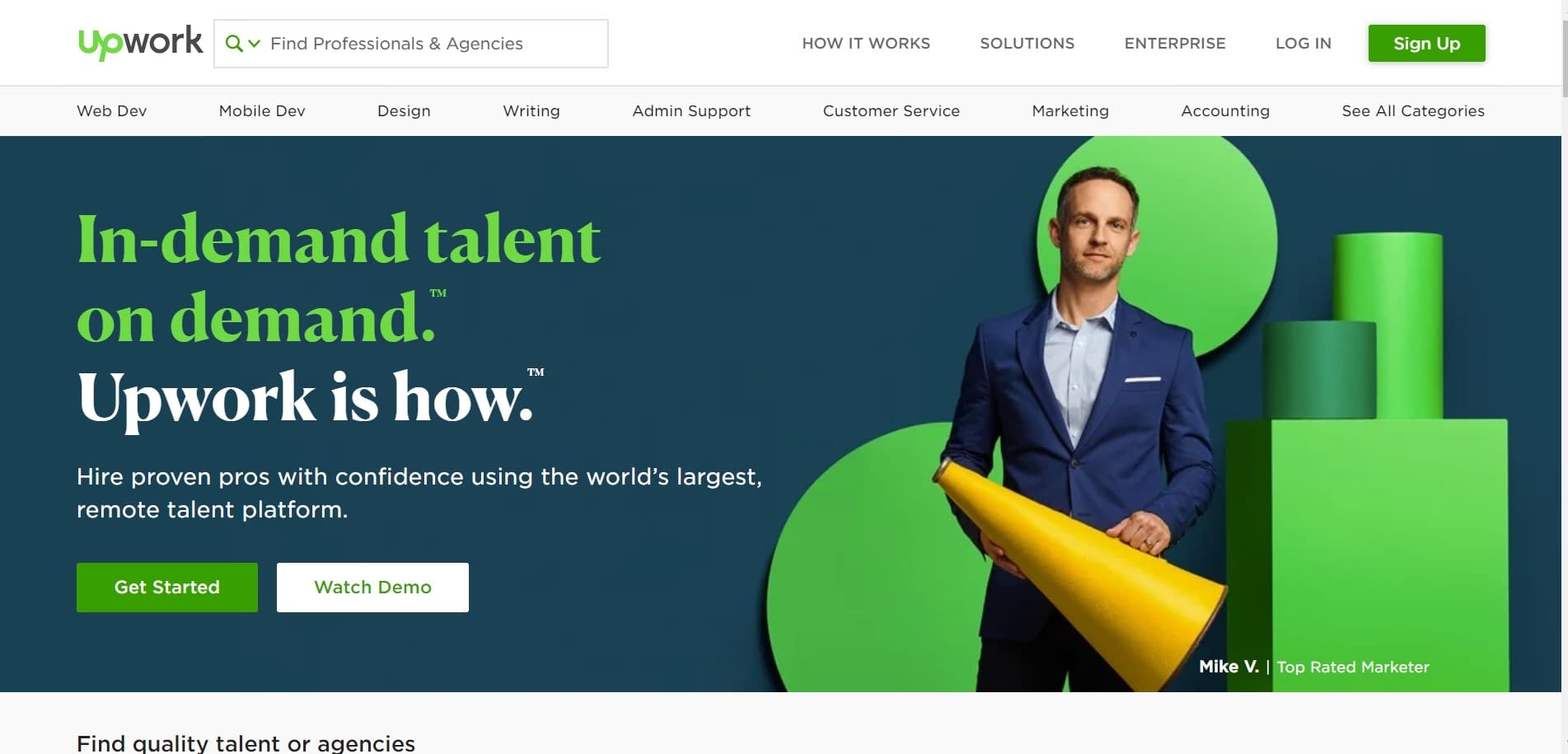 If you are looking for a way to become independent of an office job and start a freelance career, Upwork could be a good opportunity to start your journey.
It is a marketplace for "digital" jobs, which is an intermediary site for the exchange of services: it hosts announcements regarding many fields, from graphics, programming, writing. In short, it connects a "customer" who needs a certain service, with a professional who can offer that service remotely.
You can start using it even if you have a traditional job, to round off and see what prospects there are.
The amount of job offers is huge, they come from companies all over the world and concern many areas and sub-areas in which the services are divided.
It is a site that is both praised and hated and now we will see why.
How Upwork works?
Upwork is the new company born from the merger of Elance and oDesk and boasts about 10 million freelancers and about 4 million customers looking for the perfect professional. In short, a nice pool of users who can prove to be a useful springboard especially for those who are beginners or want to try their hand in the world of freelancing before abandoning a safe job.
The portal is conceived on a global scale and for this reason, it is possible to come across projects and future customers who, perhaps, are looking for us from the United States or Canada.
Registration is free unless you want to opt for a professional subscription, able to give greater visibility to our profile and our skills. During the registration phase, you are asked to insert your photo, write an accurate description of your work, which manages to center the fulcrum of what we know how to do and positively affects future customers.
Registration – Create A Upwork Profile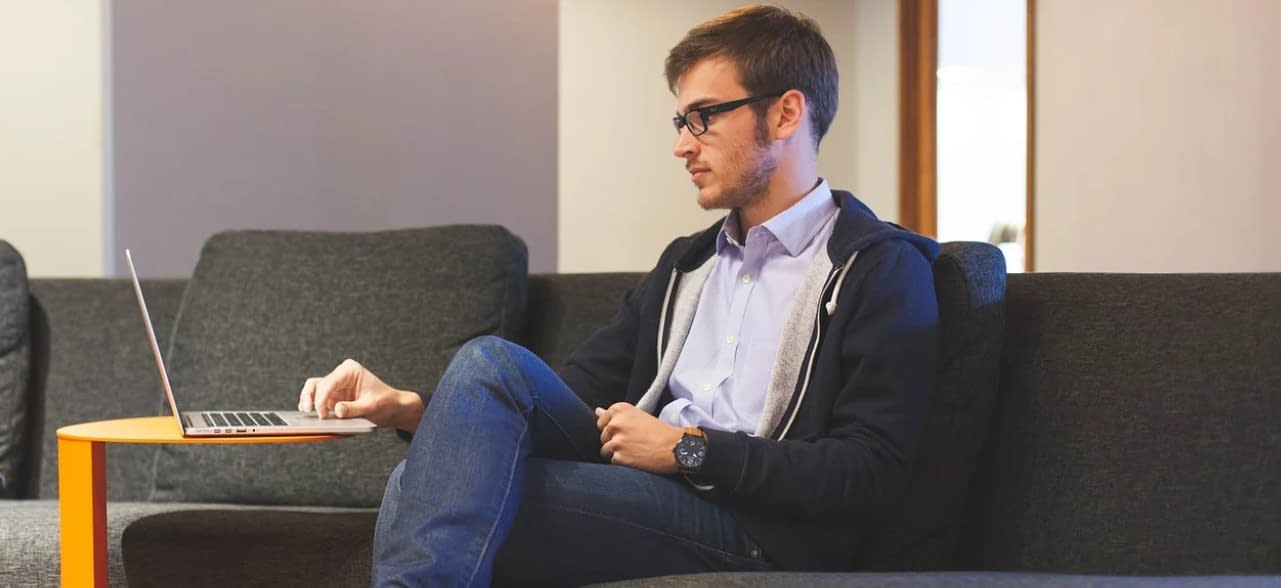 It begins with registering for free; you must fill in your profile with a description, your career, and a portfolio of previous works.
The latter is very important since not being able to know the customer in person, before "hiring" you must be able to see what you can do.

Once you have completed the profile, you can start responding to the job offers that interest you.

Competition is very high, so better try to make a good profile:

Put a professional photo, try to look like a person you would hire yourself.

Write a good description, not boring, centered on the customer and not on yourself; underlines which problems customers encounter in your area of expertise and explains how you can solve them; less "me" and more "you" in your text!

Invite the customer to contact you.

Include some positive references from other jobs: shamelessly ask previous customers to write two lines about their experience with you; even easier, write a few lines about it, send it to your customers and ask them if they think it is correct (so they don't have to struggle).
How to get your Upwork profile approved?
Check your description, try to be as specific as possible. Even if you can do a thousand things focused on what you can do best. A Joomla expert Web Developer is more likely to be accepted than one who simply makes sites on any platform. I do not doubt that the former manages to create a site on WordPress (being much simpler), but it is the way the platform thinks. If a customer is requesting a specific service, there must be an expert capable of satisfying the request.
Avoid grammatical errors

Review your profile description before applying. You wouldn't look good.

Add all the qualifications

Did you go to university? Put it.

Have you worked for 5 years as a social media manager for your cousin's company? Put it in.
The purpose of the platform is to earn and earn if you do. For this reason, he will always prefer a freelancer who has set his hourly price to $ 60 rather than a $ 5 hourly rate. It will also increase the perceived value and you will be seen as an expert. The price must be justified: you cannot put $ 60 if you only have the third grade and you have never used a computer. So remember to add all your qualifications, courses, certificates, work experiences, and write a nice description
If the problem is the state of origin you could try to use a VPN (Virtual private network) that allows you to hide your position and appear in another state. Usually, if you register from a developed country like the UK, USA or a large part of Europe you should have no problems. If you have them look at the advice above.
BUT, IF ALL THIS DOES NOT WORK, THERE IS A SMALL TRICK
Bringing your client to Upwork
If one of your customers signs up on the platform, he can decide to invite you and in that case, Upwork will certainly accept you. The downside is that you expose your client to many other freelancers.
Finding Clients – Writing Proposals
Again, you have to consider that there is a lot of competition in this marketplace, so you have to have some strategy to deal with the writing of the proposals.
The proposal you write must be interesting for your potential customer and stand out in the mass of proposals.
Remember to be constant in your work.
Some tips for finding good customers:
Write for the customer and not to incense your experience and professionalism; talk about the project, why you care, what good potential it seems to you.

Offer something useful to the customer; maybe you can talk directly about the project in question, already outlining a strategy or an approach that seems useful to you.

Suggest changes (if this is the case), that is, you can underline why you would change something in that project and why it would work better, in this way you show you know what you are talking about.

Write many proposals: do not think that a couple is enough to get results; focus on quantity, continue to respond to ads day after day.
3 useful things to remember using Upwork
Know the competition: it is very useful to study how other freelancers act in our work area, how their profiles are written, what remuneration they get.

Be determined and constant: results may be slow in coming; do not be discouraged, keep sending proposals: this is what can differentiate you from those who abandon immediately put yourself in the customer's shoes.

Everyone can make a list of their skills, instead, you write something that touches the interests of the potential customer.
In Conclusion – Advantages and Disadvantages of Upwork
Advantages
Is simple

It's free, takes a commission only on the jobs paid, and removes the hassle of looking for useful contacts: the customers are all already there, easily accessible.

Payment is safe and secure:

 following carefully the procedures it becomes difficult to be cheated.
Disadvantages
You need to know English well: customers are international and sometimes you need to speak with them via Skype.

Competition is very high, often it is about downward competition, so much so that many professionals reached a certain level abandon the platform.

High competition can lead to lower remuneration that is not in line with one's standards, de facto debasing the professionalism of those who work seriously.

It requires a constant and assiduous commitment to evaluate job offers and write your proposals.
If you want to work remotely, taking advantage of Fiverr can give you extra gear and make you reach a certain level of independence in drinking time. Working on Fiverr allows you to live anywhere in the world (with a decent internet connection), using your skills and earning.

Unlike what you might think, on Fiverr you can earn a lot more than $ 5 for each service performed. Some freelancers also manage to reach very high levels of hundreds if not thousands of dollars per project.

With this post, I explain how to use Fiverr to make money online, how to get started, and what are the most paid and sought jobs.
What is Fiverr?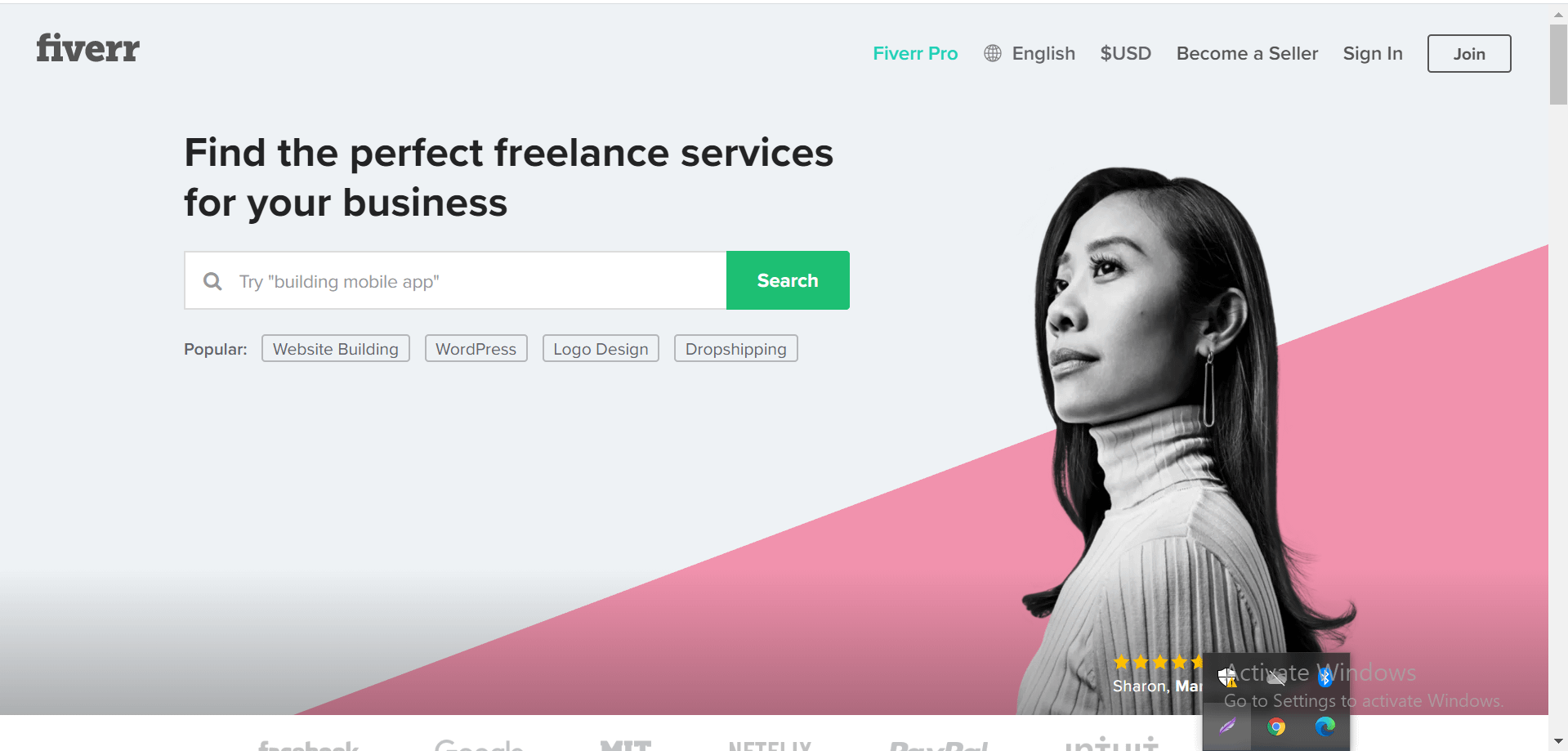 Fiverr is simply a marketplace where freelancers and experts can offer their services.
The company was founded in 2010 with one goal, to create an online platform where freelancers and industry experts can promote their services. Today on the site you can find millions of freelancers offering loos services for private customers, companies, and agencies.
On Fiverr a project is called a "gig", many freelancers start offering their services from 5 dollars upwards. Hence the name of the site, precisely Fiverr. We are not limited to this amount, Fiverr allows you to request any amount for our services most of the experienced freelancers offer services around 100 – 500 dollars per project.
The most popular types of projects on Fiverr are:
Graphics

Digital Marketing

Writing and translations

Animations and video production

Music and audio services

Programming
How does Fiverr work?
If you have a particular talent, on Fiverr you can earn by carrying out work for customers (buyers) who register on the site to complete/create projects.

Working on Fiverr is very simple, but first, you need to understand the difference between the two types of site users.

Seller (Freelance/seller) : if you work on your own and are looking for work, you can open a freelancer profile on Fiverr, create your offers and make yourself available to customers.

Buyer (client/buyer) : if you are looking for professionals who can help you complete a project, Fiverr allows you to open a buyer profile and request the services of the freelancer who convinces you most.

Fiverr offers both types of users the opportunity to communicate through their messaging system. Buyers and freelancers must always reach an agreement on the type, duration, and purpose of the project.

Now that you know how Fiverr works, it's time to set up your profile and let your customers find you!
How to get started on Fiverr.
Working with Fiverr is very simple, following the steps below you will be able to immediately start offering your services.
Open a Freelancer profile
To work and offer your services on Fiverr you must have a seller profile. So the first step is registered via this link (AFF). Once you have entered your contact information, you will receive an email with a verification link. After confirming your email address, your account will be verified and you can start offering your services immediately.
Your profile is the most important thing, customers choose freelancers based on their profile, so the best thing to do is to complete your profile by entering as much information as possible.
Once you have created your profile, you can move on to creating your "gigs", ie the type of projects and services you intend to offer. A gig usually contains all the information about the service you are offering, a title, a description, and a list of everything that is included in the service.
Even if you could just wait for a customer to find you, the best strategy at least at the beginning is to search directly for the offer requests published by potential customers. A request normally includes the type of service desired, the time to do the job, and how much the customer is willing to spend (budget). As a freelancer seller, you can search among these requests, choose the ones that are right for you, and contact potential customers by sending a message with your offer.
How much does Fiverr cost?
Creating a freelancer account on Fiverr is completely free! This is probably the best thing that Fiverr offers, it won't cost you anything to open your profile and search among the thousands of job requests on the site.
As a customer, however, you will pay Fiverr the amount (budget) for your project plus compensation for the service. The rate varies according to the budget you set. For projects under $ 40, the fee is $ 2, while for projects over $ 40 the fee is 5%.
As a freelancer, you need to know that Fiverr will retain 20% of your earnings. For example, if you earn $ 100 for a gig, Fiver will pay you $ 80 for $ 20 for the service.
How to make money with Fiverr: the 10 highest paid Fiverr services
As we have seen before, Fiverr allows practically any type of service there are more than 200 categories and subcategories of services on the site! Below we see which are the best 10 in terms of the number of requests and earning possibilities.
1- Website development
Earnings (average) between $ 100 and $ 2000 per project

Designing and building sites are one of the most requested services. You will find requests for design only, user experience, and development. Being able to perform all three services will earn you much more.

In particular, the development of electronic commerce sites (e-commerce) is among the most requested services. In this sense, knowing platforms such as Shopify, Squarespace, and WordPress to develop an e-commerce site can certainly put you in a position to earn a lot and quickly.
2- Graphics
Earnings (average) between 10 and 1000 dollars per project

On Fiverr, graphic services are in great demand. 

Whatever your specialization, logo design, graphics for printing, drawing, t-shirts, etc .. You will certainly not have too many problems finding work on Fiverr.
3- Writing
Earnings (average) between $ 50 and $ 2000 per project

You don't need to be a designer or a programmer to work on Fiverr. It is possible to earn well even with more traditional services such as the creation or revision of texts.

There are quite a lot of projects available for those who work in the copywriting field and if this is your specialty, it is certainly worth looking through the various requests on the site that vary from blog articles, e-book reviews, product reviews, etc.
4- Videos
Earnings (average) between $ 100 and $ 10,000 per project

Every 4 seconds on Fiverr gig is bought for the creation and editing of videos. So far, over 50 million projects of this type have been sold. Videos are one of the categories that are growing the most on the platform and this makes it one of the most profitable services that can be offered.

The type of video varies from classic advertisements, animations, videos to online courses, and videos to share on social media such as Youtube, Instagram, and Facebook.
5- Translation services
Earnings (average) between $ 100 and $ 1000 per project

If you can speak and write in more than one language, you can earn quite well on Fiverr by offering translation services.

There are plans for translating books, blog articles, documents, and technical manuals. In the same category, you can also find tutoring projects for people who want to learn a new language.
6- Social Media Marketing
Earnings (average) between $ 50 and $ 2000 per project

The demand for social marketing specialists is constantly growing. Depending on your experience, you can earn with occasional projects or even receive offers for shorter or longer projects such as consultants for companies and agencies.

The most requested skills are the creation of posts, customer service, the creation and optimization of advertising campaigns, and the maintenance of niche groups.
7- Influencer Marketing
Earnings (average) between 10 and 1000 dollars per project

If you have one or more social profiles with a good number of followers, at least 10,000 users, selling sponsored spaces and posts can be a good alternative to make good money without doing too much!

The price that you can request or that will be offered to you depends on the number of your followers and the market niche you are going to cover. Profiles specialized in markets with a high probability of sales such as travel, health and wellness, sports and online work are among the most sought after.
8- Speakers and dubbing
Earnings (average) between $ 50 and $ 500 per project

Selling your voice for advertising or as a narrative voice for educational and informative videos is a good way to quickly cash in on Fiverr.

There are many projects in this category and a lot depends on the language you speak, English with an American accent and British are among the most requested (obviously), but there is a good assortment also for South American Spanish, Arabic, and languages Asian as Indian and Chinese.
9- Illustrations
Earnings (average) between $ 30 and $ 300 per project

Unlike graphic design, the illustration does not have the same magnitude of requests, however, if you are a good designer there are several possibilities, especially for the illustration of children's books, funky caricatures, and the animation of informative videos.
10- Virtual Assistant and data processing
Earnings (average) between $ 5 and $ 100 per project

Becoming a virtual assistant or participating in data entry and processing projects is not very difficult, all you need is a computer with an office package, a good internet connection and a communication program such as Skype or Google Hangouts.

This type of work may seem boring and certainly not very creative, however, it does not require particular skills and on Fiverr there is an almost infinite request for this type of project, some may even turn into long-term collaborations.
How to sell more on Fiverr
Given that Fiverr is one of the major sites to look for work online, the number of freelancers and therefore consequently the competition is very high. To be able to grab a good number of projects and use Fiverr as your main source of income, you need to work hard, spend a lot of time on the platform and follow the steps below:
It seems superfluous to say it but having a good profile, full of information and complete in all its parts, is certainly one of the main factors to be found and to attract customers to Fiverr.
One thing that can give you some advantage is certainly the addition of a presentation video, both on the profile and on the single gigs that you will create. A study on thousands of sample freelancers has shown that the chances of success increase by 200% when using a video as a means of presentation.
SEO, or search engine optimization, is one of the essential components for a winning Fiverr profile. Knowing how to optimize your profile by following all the basic and advanced tactics for good SEO is one of the main ways to emerge among the "crowd" of freelancers on the site and to be found by customers who also research outside the platform.
If you have no idea what SEO is and how to optimize your profile, you can read this short introductory guide, which will put you in a position to exploit SEO also on Fiverr.
Some basic tips are: optimize the titles and descriptions of your gigs to reflect as much as possible what you are selling. Using specific keywords in your profile and the description of your projects helps a lot to be found and don't forget to describe also the images that you will use to accompany your gigs.
Fiverr has a specific section in your profile where you can enter the "meta" information for SEO.
Download and use the Fiverr App
If your workaround, you will not always have the opportunity to count on your laptop, in this case having the Fiverr app installed on your smartphone will allow you to search for jobs, check your messages and respond to customers. After all, customer service is one of the key components of getting success on Fiverr.
Upsell, that is, the art of offering more
Even if you are offering gigs for $ 5-10, no one will stop you from enriching your offer with additional services. On Fiverr it is possible to add extra services such as fast delivery or extension of the services offered, adding a surcharge to the initial cost of your service.
For example, if you offer a custom logo creation service, say for $ 50, you can offer 3 additional tests for $ 100 and maybe the creation of an entire brand-guide for $ 200.
Try to always aim for 5 stars
Offering impeccable service, excellent quality, and fast and continuous communication are the secrets to obtaining a 5-star rating on Fiverr. If your customers are satisfied with your work, they can leave you a 5-star review with a lot of comments, encouraging your next potential customers to choose your services.
Remember to always be polite in all communications and try to be professional, even with those customers who are a little more difficult and demanding, in this way avoiding bad reviews that could damage your reputation and undermine your chance to earn.
Reach the maximum level as a freelance
Initially, on Fiverr your profile will be presented as a "new seller". Completing as many jobs as possible, keeping positive reviews, will slowly lead you to become a "top-rated seller". This will be indicated on your profile with a special badge, you will have access to VIP support and the opportunity to be chosen for special promotions by Fiverr.
Advantages of Fiverr
Freedom:

 Fiverr allows you to work on your own, according to your time and from anywhere in the world (as long as you have a good internet connection).

Secure payments:

 since all customers must deposit the money requested in advance, if your service is impeccable and you respect the terms of the agreement, being paid on Fiverr is quite safe and immediate.

Ability to receive bonuses:

 On Fiverr customers always can add economic bonuses for the seller, this always-on condition that the service received is excellent. So engaging sometimes even beyond the agreed service level is a good thing and very often you will be awarded a bonus that normally stands between 10 and 20% more.

Fiverr is great for beginners:

 If you are taking your first steps in the world of freelancing, Fiverr is an excellent platform for making your bones. You will have a very large number of customers ready to buy your services and you can start to know all the dynamics behind the maintenance of a business of your own, on a secure platform where (at least) the payments are guaranteed!
Disadvantages of Fiverr
All this service from Fiverr comes at a cost, the commission that Fiverr will keep on your work is quite substantial, 20% of whatever you earn. It is therefore advisable to consider this when creating your gigs and assigning a cost to your services. Furthermore, given the low entry barrier on the platform, Fiverr also has very high competition, especially in categories such as graphics and Webdesign, this means that unless you are superstars, with a great experience and an excellent portfolio, initially you will have to struggle a bit to be found and to be chosen by customers. Especially in terms of price, in the beginning, you may be forced to keep a low profile to emerge among the competition and earn the coveted 5 stars.
Summary Upwork VS Fiverr
As we have seen, both Fiverr and Upwork have an excellent platform to start working online, to create a source of primary income or perhaps to integrate the work you already do.
Your earnings depend a lot on your skills and the number of hours you will spend on the platform, but with a little will and dedicating the time necessary to establish yourself as a professional, you will probably be able to establish yourself as a freelancer and reach the level in a short time. of desired economic and labor freedom.