Are you getting married? Now you want to have an awesome wedding website for your own? Your wedding day is a special day for you and this special day deserve a special website. I today's post I will share some best wedding website examples.
A wedding website is important for you and it can help you in many ways. You will able to share your love story, pannings and many more about your wedding day. Your guest will able to see information easily from their own without calling anyone. You should have some photographs to include your wedding website before you get started. Without photos, your wedding website will be incomplete. Don't forget to share the necessary information that your guests should know. I know you are worried about the look and design of your website.
So I am here to help you with some great examples of wedding websites to make your day special. There are many wedding website examples over the internet and its really hard to find some best.
How can you make your wedding website easily?
Wedding time is a very busy time for any couple and its so hard to make some time for any extra work. You should not waste much time to creating your wedding website. You can simply choose any drag and drop website builder to make your website in a very short time like WIX or SQUARESPACE. But you should have a basic idea about creating websites and website build or you will lose your time and get nothing. To save your time and you can hire an expert website designer who has great knowledge about creating websites. You can easily find them from the fiverr or upwork marketplace. If you want, then I can also make a very nice wedding website for you for a cheap price. You can contact with me.
You may also like..
How to create a website free of cost
Best wedding website examples
You are excited to see some best wedding website examples. So here is the list. I found them from the internet and selected the best websites for your inspirations. I hope you will love those wedding website design.
1. The-Pittmans.Com
This is a cool example of a wedding website. This website has a simple design and very easy to understand their vision. They used a banner image at the top of the homepage to show how happy they are. After that, they added a menu bar for easy navigation. They shared a short bio about both of them and shared a lot of photos. I think you can follow this style to share your wedding information with your friends and family. They also have an RSVP and REGISTRY page on their wedding website.
Website link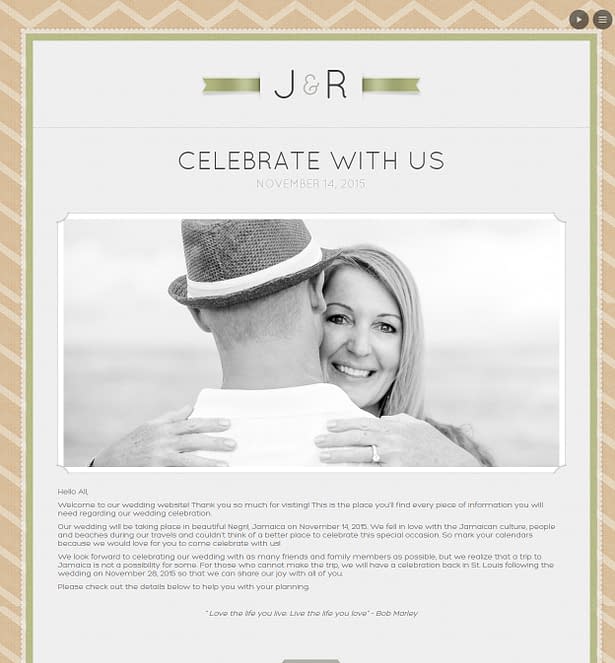 This is a one-page wedding website example on our list. They put all their information on one page to share their story in an easy way. For the website, they created a logo. You can try to have a logo from a designer if you want to make your wedding website more professional. They also used a slider to display some of their best photos. After that, they added a welcome message for their guests. They tried to add all the necessary information for their friends and family on their website.
Website link
3. Kate & Charlie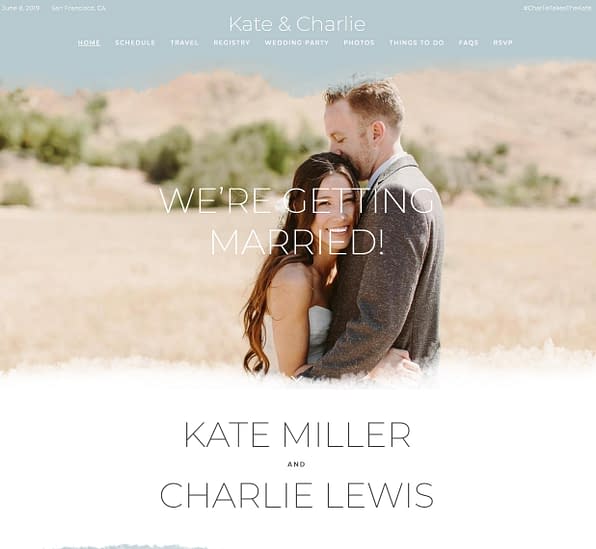 This is an amazing example of wedding website design. This is not a live website, this is a wedding website template designed by Zola. That means you can have this design and use on your own wedding website. If you visit the demo you will see all of the essential pages are included with the design. You can customize the design according to your need.
Website link
4. JASON MCCORMACK & MARK DAVIS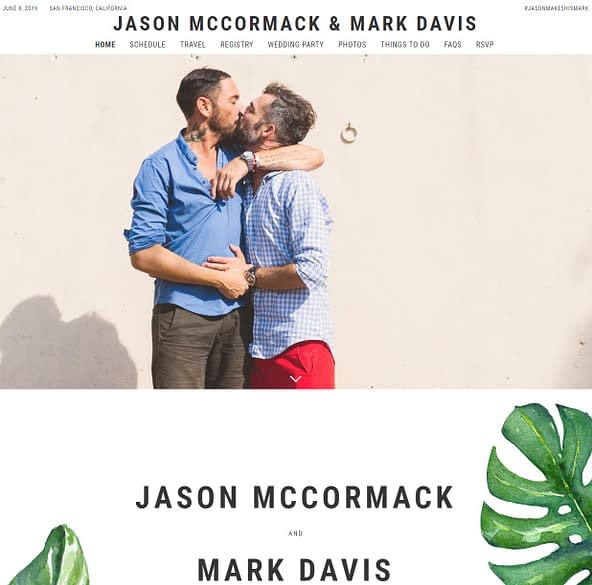 This is another template from Zola. This minimal wedding website design will blow your mind. This is a fully customizable and responsive design. You can edit, hide, add any page if you want. At the top, there is a menu bar with navigation. Then a large images banner to showcase the best image of the couple. This design is simple and natural but looks modern. If you are trying to make a modern design wedding website then you can follow this design and make your website.
Website link
5. Karlandgina.Com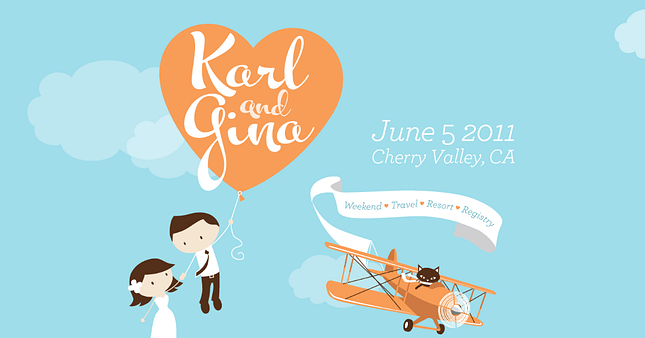 Do you love creative design? Want something outstanding and different? This is the best website example for you for your wedding. This one page wedding website is minimal and creative. You can get inspiration from this design and make something similar for you. You may need to hire a professional designer for this kind of website design who have a great understanding of both graphic and website design. By the way, I personally liked this website design very much I hope you also liked the design of this wedding website example.
Website link
6. Helenandjoshsittinginatree.com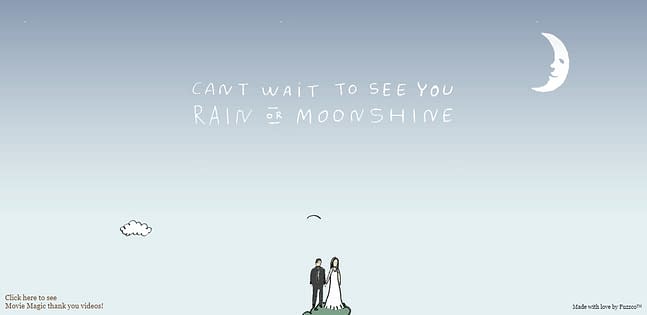 This wedding website will just blog your mind. Visit the website and see the magic. This is a custom design website with animation and professional illustrations. They did not use their real images to display on the webpage. They showed their creative mind through the website. Also, the did not use much information without some important info.
Website link
7. Sarah-N-Peter.Com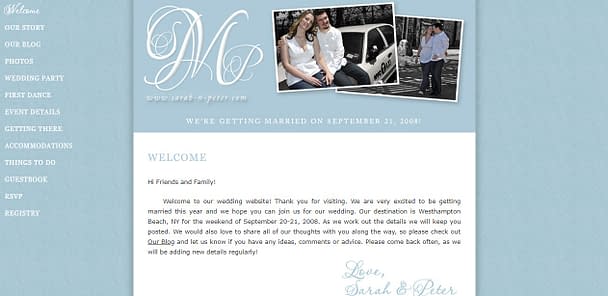 Do you like vintage design? This is the example design for you. This website has a vintage style. If you visit the website you will first land on a Wellcome page with a logo. If you click the logo then you will able to enter the main website page. The have Wellcome wedding message on their page and also some other informative pages.
Website link
8. Free wedding website example wix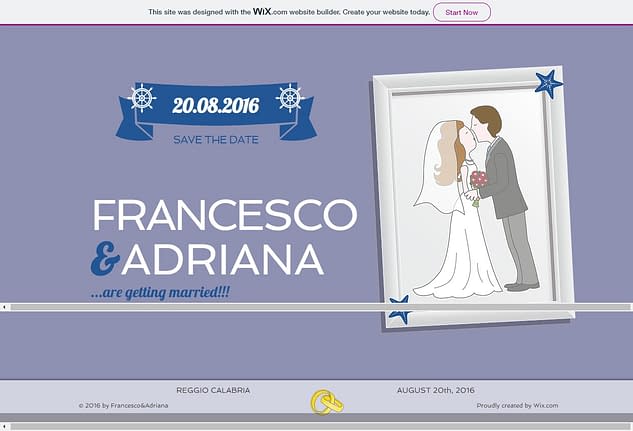 This is a free wedding website example built on Wix drag and drop website builder. You can make something like this easily using wix website builder. They have lots of templates specially for the wedding. I think Wix is easy and great website builder if you want to make your website own.
Website link
9. taitandannika.com Wedding website design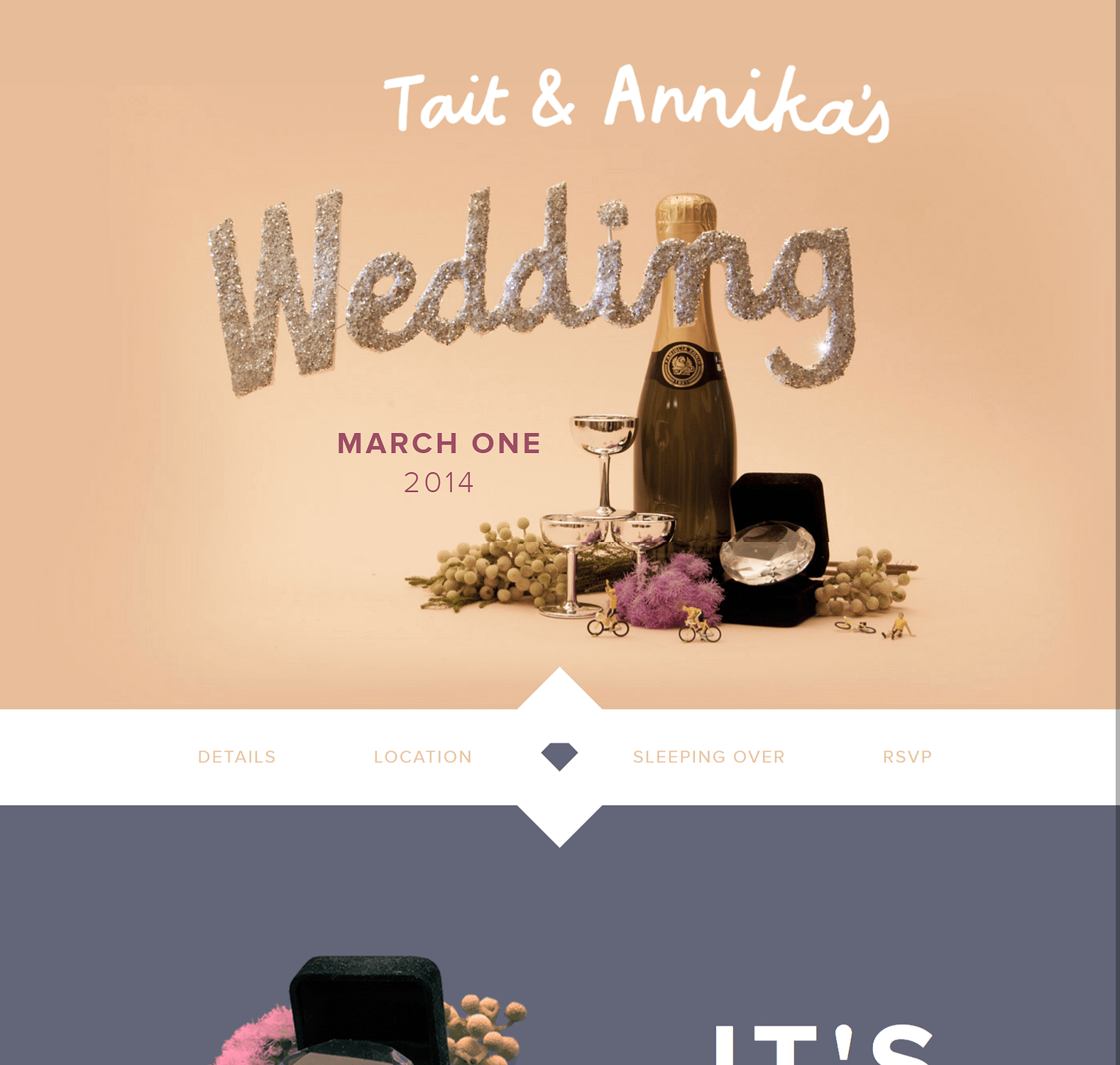 This is another example of best wedding websites with a unique design. The simple and effective design of this wedding website will definitely draw your attention. This is a one-page wedding website design. They covered information in a single landing page to make sure the website will be simple and easy to understand. I really liked the navigation bar design of this wedding website.
Website link
10. ameliaandsteve.com Simple design wedding website example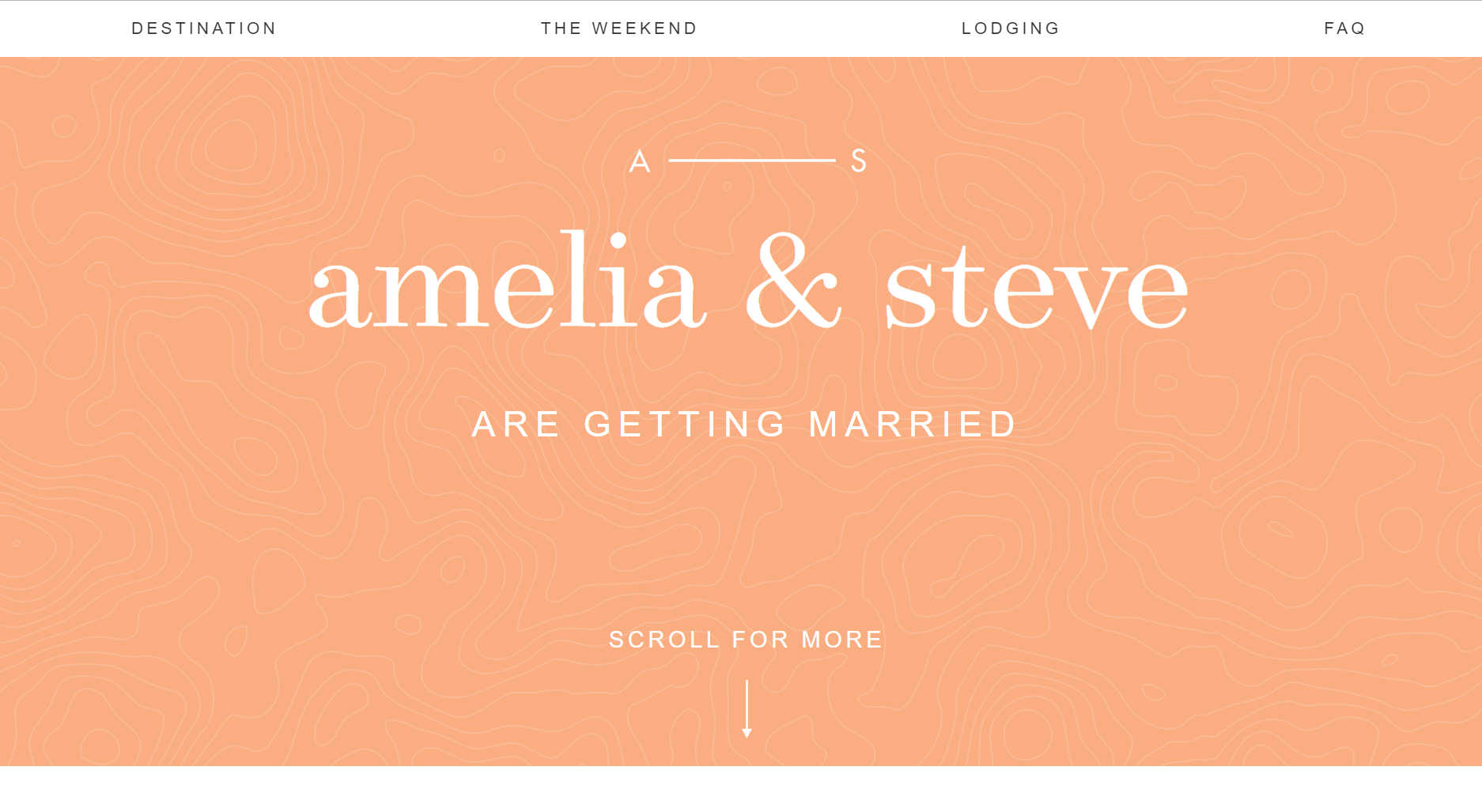 If you are looking for a simple design wedding website example you can follow this wedding website design. The design of the website is simple and creating this type of wedding website is very easy. If you want to make your wedding website on Wix or Squarespace website builder then you will able to make this kind of website within a few hours.
Website link
11. ankushandricha.com Indian wedding website example
Now I am going to show you one example of Indian wedding websites. This Indian wedding website has a unique design landing page. From the landing page, you can enter in two different pages. One is for Bride side relatives and another is for Groom side relatives. I like the idea of how they structured the design of their wedding website. If you want a website like this then you can follow their design.
Website link
So here is the list of some best wedding website examples. Which website do you like most? Don't forget to let me know. If you need very professional custom wedding website design, contact me. I will provide you the best quality work at a reasonable price. I hope you enjoyed the article.