First of all, what you need to know, is SEO. SEO is Search engine optimization that techniques to improve the traffic to your website. In this article, I'll show you a complete Wix SEO guide so that your site can rank on Google searches and other search engines. The ranking is very important to increase traffic to your website.
Wix SEO Wiz provides personalized plans for your website, it includes different types of very helpful features that can make your website rank on SERPs. You just have provided the basic information about your website, for example, keywords and locations, and Wix SEO Wiz will provide you your personalized SEO.
Is Wix Good for SEO?
Many professionals say that Wix is not good for SEO. But Wix claims that Wix is SEO friendly and they rank better than other platform websites. So, what is the truth! In my opinion, if you run a small business and you are not an expert at SEO or website design then Wix is good for you. Wix has the awesome SEO tool "Wix SEO Wiz". By the Wix SEO Wiz, you will able to do on-site SEO easily, you don't even need to know about SEO strategy. There are other builders with advanced SEO features but Wix is good enough for small businesses, blogs, or personal websites.
I will discuss each and everything your Wix website needs to be 100% Search Engine friendly. This post is going to be a bit long. Sit with a cup of coffee, you can bookmark the page if you want to read this post later.
Wix SEO Wiz
After creating your website you need to fix your website on-page SEO issues, here Wix SEO Wiz will help you. You will able to fix on-page SEO easily flowing their easy steps.
To access SEO Wiz:
Go to Marketing Home in your site's dashboard.
Click Get Found on Google.
Click Start Now.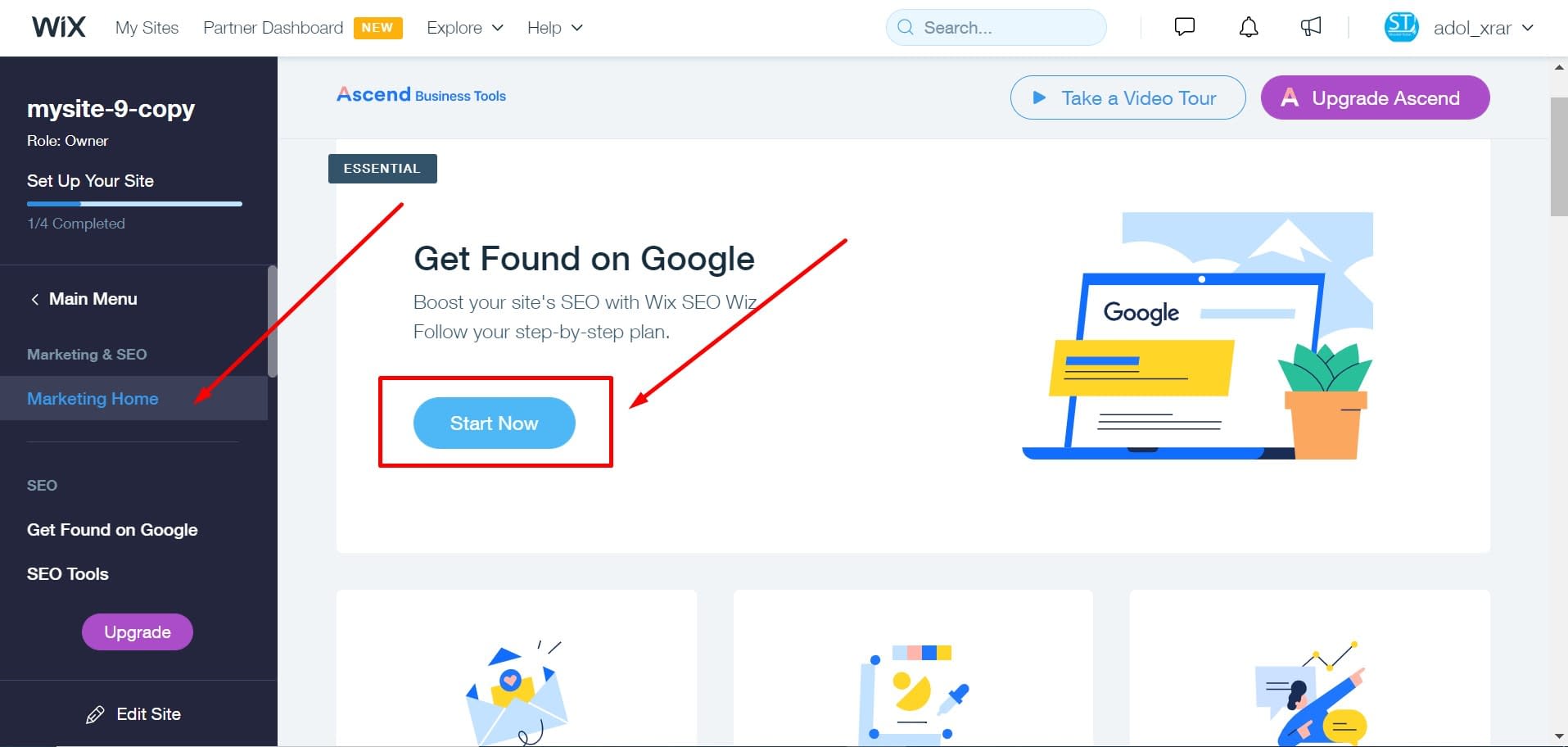 You have to provide some information about your business or website. 
STEP 1: Get Your Site Listed on Google
Connect to Google
Update the homepage's title on search engines
Change the homepage's SEO description
Optimize the homepage's text
Site is mobile friendly
Connect your site to a domain
Connect to google search console 
STEP 2: Optimize Your Site Pages for SEO
Update the contact info on the Homepage
Connect your social media and link them
Setup homepage text hyperlink
Change about page title
Change about page SEO description
Optimize the about page text
Update the contact info on about page
Google Search Console tools and reports help you measure search traffic and performance of your site, as well as fix the issues and make your site outstand in Google Search results. Wix SEO Wiz can be connected to Google Search Console very easily by clicking on Connect to Google.
Google Analytics is the service that provides the analytics of your website traffic. It tells about what page on the website, what content on the website is getting more visitors or customers. Google Analytics is very useful in boosting your SEO and you need to have a Google Analytics account for that. Then you will add your tracking ID to your Wix website, it will let you know all the information about your traffic and page view count, even about the visitors, from where they searching, and by using what keywords they can reach your website.
You can link Google Analytics and Google Search console together, this will give you more information about your audience.
Tracking events with your Wix site: Wix tracks events for your website and sends the data to Google Analytics automatically. It's very helpful, right? There are purchased funnel events and new lead events.
Now this is the time to improve your wix website SEO with some advanced techniques.
Choosing the right keywords
Choose right and long keywords that are targeted to your audience For instance, if you want to buy a bicycle, you will search for the best bicycle or related keywords, now keep this in mind and write long and related keywords that will target your special audience.
There are different keyword search tools you can use, to produce correct keywords for your website. For instance, Google keyword planner, Google trends, and many more. You can read this post for more. https://backlinko.com/hub/seo/choosing-keywords
Social media integration
The social media integration feature is provided by Wix. By using social media integration, it will be easy for your users to share the content of your website on social media. It will help to promote brand awareness as well as increase the visibility of marketing campaigns.
Choosing the right domain
Choosing the right domain is very important. Domain should be short and catchy, and it's better to include your business name or area of expertise in it so your audience can get a better idea of what you do. Now, it's also good that your main keyword is included in the domain so that it can appear more while searching.
The right domain for a website makes it easy to find while researching, make it look professional as well as boost your SEO.
Google and Wix partnered so that smaller and new websites can get indexed.
Make your site mobile-friendly
Making your site mobile-friendly is not negotiable, why? Well according to a report, in 2019 almost 50 to 60 percent are of Google searches are done using a mobile phone.
The Wix website Builder already comes with a mobile-friendly version. It can be done using Wix editor and accessing the mobile editor from there. If you want to change your mobile version site but not the desktop version, using a mobile editor will not affect your desktop version site.
Adding a site map
Providing the site map of your website. Sitemaps make your site more organize and users get the idea of your overall website. It is just like providing a map of the city so that a traveler gets the idea of the overall city and the ideas he wants to visit in the city. Similarly, sitemaps do the same thing for your site. It makes your SEO better. Using (Anon., n.d.) SEO Wix wiz can do it for you, you just have to connect your domain and then sitemap can easily be submitted.
Competitive analysis tool
If you want the content on your website rank on top searches on search engines then you should know your competitors. Knowing your competition is as much important as creating value-able content because your content has to be unique and interesting. Competition is very good for every website as it leads to innovation.
Competitive analysis is also one of the most important things in SEO. You can do a competitive analysis using SERP analysis easily. It will easily identify the top competitors of your business, the top competitors are one that is ranking on the top page of SERPs.
You can easily find all the main information that you'll need for your website, about the top competitors using competitive analysis tool by just entering the relevant keywords there. Then you can easily see from there, what is your competitor doing so that they are out-ranking your website.
Using a competitive analysis tool, you can easily see the metadata of those websites as well as the structure of those websites. Then you will be able to get important notes or points that you can also apply to your website content and overall structure to improve user experience and to get ranked as well.
Another plus point of using a competitive analysis tool is you will be able to know, about the backlinks of your competitors, of course, you have dive very deep to get that information, but it's worth it as you will be able to use that information for your website building high-quality links.
Good Site Structure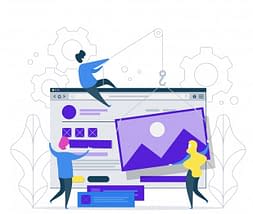 Having a good site structure is very important for SEO. It's very helpful to increase the time spend on your website as well as the number of pages that your audience is visiting.
The way how all the information is arranged in your side and how all the website pages are all nicely linked with each other is the structure of your website.
If you want that your website appears more and more on search engines then your website must be understandable by those search engines. Crawling is a process search engines do when they recognize all the content from websites so that they can rank them, they index the content of websites on SEPR (Search engine research page) accordingly. But if the content on your website is not that organized, then how search engines can recognize your website?
Wix provides Wix website templates that already contain everything that you need to structure your site. These templates have intuitive menus so that the navigation on your site can be intuitive and simple. These contain heading tags that make your site well-structured and very well organized.
Adding text to the images
Adding text to the images on your website is very essential for SEO. The website without images is just like gardens without flowers. Plus adding images can enhance the user experience as they make your website more appealing as well as interesting.
Always keep in mind that, heavy files can slow down the page speed that is a ranking factor in Google or other search engines searching algorithms, plus they take so much time to load on the site, so it is better to always compress your files before uploading them on your sites or try to not upload such heavy files.
Now the problem is that search engines like Google are unable to see images like the human eye do, right? Adding text to describe the content of images is called alt text. It can be useful to get more traffic and draw the audience to your site as these images have a greater chance to appear on Google Image Search. Alt text is very easy using Wix SEO Wiz. Always give a short description of the images you use.
Write only Authentic Content
Your content has to be unique and fresh. Unique in such a way, that it's not copied from any other website.
Content should be valuable and authentic.
Wix has advanced capabilities and you just need to write the content.
Choosing the right content for your website that is relevant to your business as well is important.
Another thing that's important while creating your website is, creating pages. You should always keep in mind that a user or viewer will not always land on your homepage. For instance, if a user performs a query, the search engines will show them the most relevant sites first, so in that case, the viewer will not know anything about your business but will visit your page. That is the main reason why every page of your website must encourage the actions that will help you achieve your business goals.
Adding Visuals to the Website
Another important thing is the visual of your content. Pay attention to the color and font size of the content. This can seriously improve the ranking as the user will get more engaged with your website. The font size and color should be readable and clear.
Adding tables, lists, or bullet points
Using tables, lists, or bullet points can improve readability. They can help you present your content in an orderly manner and organized, and search engines love when the content is very organized and well represented in the form of tables and lists.
Long and detailed articles
A popular saying related to SEO is "length is strength", it's true. Longer articles tend to have a higher rate of ranking as compared to the shorter articles. Why? Well, search engines love very explaining quality content and include a bit of detail to the related topic. But that does not mean one should add irrelevant information to the article.
It's still "Quality over quantity". The quality of the content is much important that quality, so always keep this in mind while writing articles for your website.
Title tags also play an important part regarding SEO. The title tag should unique and eye-catchy and related to work website content.
It's very good if you use the primary keyword in it. Using keywords or the texts closer to the keywords will boost SEO and search engines will recognize your website more. 60 should be the maximum
character length of the title so that Goggle does not cut off your full title.
Meta descriptions are the text below the title of the article that's get featured on the Google engine research page (SERP) that summarize the whole article. It should be a maximum of up to 160 characters, unique and must include your keywords. This description should be like this, that user or your customer wants to open it, it should summaries your whole article into a very small paragraph.
Local SEO and why is it important?
Local SEO is similar to SEO but is more of local marketing searches.
It is used when you have local marketing business or local services and want to promote them more. For example, if people are searching "Best beauty salons for women in Berlin" in searches, it means they are looking for the definitions or "what is" or "how-to" tutorials. It means they want to visit the salon, and Search engines are very smart, they know what the consumer wants, so they will show them relevant sites. There are some options like "can I buy" or "near me" so that the consumers can truly find all the information related to their searches.
Now, if you have a women beauty salon in a city, let say in Berlin. Your Keywords should match the keywords that people are searching for. Your salon is a local business and you want to promote that salon, for that you need to be more focused on Local SEO so that the local customers can find what they are looking for at the same time.
46% of consumers use search engines to find local information. So you can get the idea of how much is it important to use local SEO for the businesses.
Now take the example above, of beauty salons for women in Berlin, assume that daily 100 people search for the same thing, but the people live in Berlin are more likely to go to salons than the people outside the Berlin, right? So you should target those people that live in Berlin and for that, you have to use local SEO So that you can compete with the big brands in
Berlin. Plus most of the local SEO activities are free of cost so it is a good investment for that reason.
Using local maps pack can boost your SEO. According to a study (https://moz.com/blog/the-new-snack-pack-where-users-clicking-how-you-can-win, n.d.), by adding local maps pack, they get round about 40% of the clicks.
Like a local map pack, Google maps can be beneficial to a business. Many consumers use Google maps while heading towards their destination, and Google maps can display local businesses relevant to the search they perform.
Mentioning your business location
Google prefers the search results that are based on location, so try to include the location for local businesses. You should list down all the keywords and terms that can be used to find your business. For example, if you have a flower shop in Tokyo named red-roses, your searching keywords should be like this
Flower shop near me
Red-roses opening hours
Flower shop in Tokyo
Red-roses contact number
For local businesses, mentioning your business location in keywords or overall your website content can be useful but you do not have to force it instead brainstorm a bit and try to find perfect spots for them in your content.
Adding NAP information
Add basic contact details on your website like Name, Address, and phone number, also called NAP information. Try to include MAP information on every page of the website, also the map on the contact us page will it easy for your customers to find you.
To keep relevant to your main audience, local SEO is the key.
Always keep updated with new trends
Search engines like Google are getting smarter day by day, now and then, there are some changes in the searching algorithms of Google and other search engines as well, because the main goal is to generate relevant information on search pages so that the user experience can be improved. So it is very important to keep educating yourself on SEO regularly and always try to learn what is new today and implement those things to your site so that it can always remain relevant to your audience as well as it can always rank on search pages.