Before creating any website or blog, hosting is one of the key factors that you need to keep in mind. The hosting service you choose determines the number of visitors your website can handle per month, your website speed and the customer experience.
As more and more businesses understand the benefits of an online presence, the number of companies offering hosting services has gradually increased. The big chunks of hosting companies have made it difficult for newbies to find the right hosting provider. In this post, we are going to compare two of the most popular hosting brands that are Wix Vs BlueHost.
We have done most of the work for you by exploring Wix and Bluehost performance, functionality, support, and pros and cons so you can decide whether BlueHost or Wix is the right choice for you.
Ease of Use; Wix vs Bluehost
If we talk about ease of use, we have to say that Bluehost is initially a web host, but not a website creator. However, the company has a server solution optimized for WordPress. In other words, users can take full advantage of WordPress features in combination with faster and easier hosting.
We all know that WP is not as easy to use as it seems, especially for beginners. CMS requires a beginner learning course that can take some time. With its WP plans, Bluehost offers an excellent solution to the problem. You really get the same WP functionality, though with a few key additions:
Excellent Integration: Bluehost offers quick and easy integration with the most popular CMS. So, you do not have to manage any configuration. The system adapts your website to you.
You Get Open Source Advantage: Although you can use WordPress with Bluehost, it offers additional benefits in terms of web design and coding. You can change HTML / CSS to implement your own design or functionality. However, this requires a solid technical experience.
100% compatibility: With Bluehost, you don't have to worry about system updates and add-ons. Your host will do this for you. You just need to make sure the functionality is included in your plan.
Content Management: You will experience the same dashboard as presented in WordPress. The control panel is fully integrated into your website, so you can easily add new publications, pages, elements, adjust the structure, etc.
Custom Website Builder: Although you still have a drag-and-drop website builder, the features are slightly limited compared to Wix. In addition, users have to pay for it separately.
Bluehost has made the workflow very smooth and easy because of CMS. However, you still have to register a domain name and connect it to your hosting account. At the same time, you also have to install the required add-ons, since there are no WordPress themes with pre-installed apps presented initially. Some of these add-ons are drag-and-drop editors to simplify the editing process.
Wix is mostly a website builder that uses drag-and-drop functionality to design great websites for beginners who are unfamiliar with coding. The basic idea was to help beginners create and publish websites of any kind in minutes without technical know-how. Despite its super simple and intuitive WYSIWYG editor, the system managed to implement its AI-based design tool that literally creates websites in minutes. Here are some benefits user gets if they choose WIX.
Wix ADI: Wix uses artificial intelligence to create websites in minutes. Once connected, the system asks several questions to define the business niche, the type of website and the features you may need, etc. Next, Wix ADI offers several pre-made layouts with already integrated applications and add-ons for you. You can change the general style or system display anytime you want with the relevant content and you can also connect your social media accounts.
Wix Editor: If you don't want the machine to do all the work for you, choosing a template for additional adjustments is also a good option. There are over 550 different subjects which are divided into categories. You can choose the one you like best, or create a brand new template with an intuitive drag-and-drop editor. You can select, redesign, or place the element or block you want where you need it.
Wix Corvid
It is an advanced solution for those who want to participate in the coding process. You can create your own block or element and change the design of the models. Of course, it doesn't offer as much freedom as WordPress. On the other hand, you still get numerous customization options. The main advantage is that all processes are managed on a single platform without registering a domain or looking for separate hosting.
Verdict: In my opinion, Wix is ​​a better option for beginners. It's easier to use thanks to it's AI technology and simple web editor. In addition, Wix is ​​an all-in-one platform, while Bluehost is just a hosting provider, although you can work with WordPress, just you'll need to install them manually.
Wix Vs Bluehost: Performance and Reliability
Nobody likes a website that takes way much time to load or crashes when you need it most. If you choose a provider like Bluehost, there are a few things you can do to improve the performance and availability of your website. Wix, on the other hand, doesn't offer you many tools to work in this area. For this reason, Wix is ​​not my prime choice for this option. However, let's take a closer look at some statistics to find out how Bluehost gets an edge over Wix in terms of performance and reliability.
Speed
Bluehost is absolutely amazing and takes no-time to load a page. The websites hosted here are usually loaded at an average speed of around 406 ms. Because Bluehost offers several types of hosting, you may see better results on some websites than others. For example, a website that uses a shared hosting plan is likely to be slower than a website that uses a dedicated server. Nevertheless, an average of 406 ms across all areas is quite impressive.
Websites that offer all-in-one packages like Wix are always a bit slower than dedicated providers like Bluehost. In this particular case, the difference is quite significant. A website hosted on Wix is ​​expected to load between 1.13 and 1.31 seconds, which is not a good deal. A little more than a second may not seem like a big deal at first glance, but keep in mind that slow speeds are not only uncomfortable for the user but also affect other areas such as SEO and user experience.
Uptime
If you've researched the web hosting providers, you've probably noticed that most of the big players offer a "99.9% uptime guarantee". This number may vary slightly from company to company, but basically every provider states that their website will be up and running almost 24 hours a day, 7 days a week, so in most cases, this statement is somewhat exaggerated. In the case of Bluehost, however, this is really the case. They are the man of their words when it comes to uptime.
Bluehost's 99.99% uptime guarantee is maintained 24/7, and the company is extremely reliable in this department. Wix now offers the same guarantee, but statistics show that the availability of a site is closer to 99.95%. This also seems to make a small difference, but in this highly competitive market, every little bit counts. It is enough that your site is down for only a few minutes a week to notice a gradual decrease in user engagement.
What To Choose For WordPress: Wix or BlueHost?
When it comes to WordPress hosting, this is an area where Bluehost clearly outperforms Wix. WordPress has become an important blogging software that currently serves over 25% of websites worldwide. For example, it is the most preferred platform for managing corporate blogs. One of the key roles for Bluehost's growth is the support offered by them for WordPress hosting, which is a good alternative to shared hosting.
Bluehost WordPress hosting is based on the VPS hosting platform but is not as customizable as the other plans. The user interface facilitates navigation, enables quick configuration and offers advanced functions such as the MOJO market. Bluehost is one of the few hosting providers to have received the official WordPress seal of approval. In other words, I found Bluehost to be the king of the market when it comes to WordPress hosting.
In particular, Wix does not offer WordPress hosting services. It is a big loss for you because you don't want to be associated with it if you like WordPress. With Wix, you'll be left behind from the advantages of WordPress, such as the numerous topics and the simple extension with add-ons.
What To Choose For e-Commerce Site: Wix Vs BlueHost?
With Bluehost, you have access to the e-commerce applications which are available in cPanel. Since e-commerce websites are often tedious and difficult to create with a traditional hosting plan, Bluehost is probably not the most suitable option for most people who want to run an online store especially if they are beginners.
On the other hand, Wix has simplified the creation of an online store considerably. In fact, you can buy your website plan specifically for e-commerce. When you buy a Wix eCommerce website development plan, the additional features required for online stores, such as Payment gateway, shipping, taxes, etc. come along with the plan. So, in this case, Wix is ​​definitely the winner.
Which Is Better In Terms Of Search Engine Optimization
Nowadays it is important to focus on SEO more than anything if you want to attract visitors to your website. Learning good SEO practices can be time-consuming and confusing for newbies. So it's good that your web host can help you with that. Most companies don't offer many SEO tools, but if your provider allows you to use third-party tools, you're already in the good hand.
Wix offers SEO tools that are built into your hosting plans but primarily aimed at optimizing websites as a whole rather than individual articles. These tools are great if you own a business and want your homepage to rank higher in search results. However, they are not very useful if, for example, you have a news website that regularly produces new content. Wix SEO tools can do the job, but some people will find them more useful than others.
Bluehost SEO Tools: Bluehost also offers its own SEO tools, but these are only available as an optional service and also costs $2/month. However, the company allows you to use any desired CMS and third-party applications for your hosting. Therefore, we recommend you to go for a WordPress site if you are going with Bluehost. With WordPress, you can download a variety of SEO add-ons for free. With most of them, you can improve not only your website as a whole but also every single content.
Bluehost Vs Wix: Pricing Plans
Both the hosting services Bluehost and Wix offer three main hosting plans. The cheapest hosting plan at Bluehost is the basic plan, which costs $ 3.95/month. This plan offers unlimited bandwidth, 50 GB of storage, and enables hosting of a single website. Wix's cheapest option is the combo plan, which costs $13 and is recommended for personal use. The combination plan offers a bandwidth of 2 GB, is compatible with a website and has a storage space of up to 3 GB.
Bluehost's second option is the Plus Plan, which sells for $ 5.95/month. This plan provides unlimited website storage and supports unlimited websites, unlimited bandwidth, and unlimited parked domains. For Wix, the second option is the unlimited plan, which sells for $ 17/month. The unlimited plan offers unlimited bandwidth and 10 GB of website storage. Note that the company is very incomplete in other details, such as the number of compatible emails.
The most expensive hosting plan at Bluehost is the Pro Plan, which offers practically everything in unlimited proportions. This means that bandwidth, parked domains, website storage, and email accounts are unlimited, among other things. This plan costs $13.95/month and is recommended for companies with many subscribers.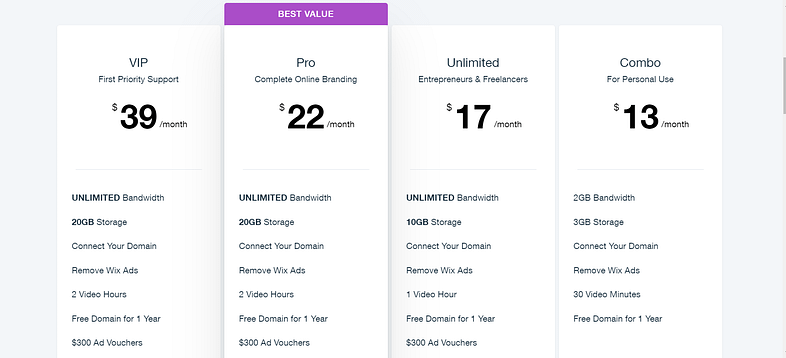 If you choose Wix, the highest hosting option is the VIP hosting plan, which costs $39/month. This plan includes unlimited bandwidth, 20 GB of website storage, and a free domain for one year.
When you sign up for Bluehost, you don't need to worry about that because you can connect Google Analytics to your website and a variety of other apps and services for free. Bluehost also offers free SSL certificates and free first-year domain names that are available at all tariffs, including the cheapest. All plans except the first are provided with spam experts and a free one-month trial for Office 365 Mailbox.
Pros & Cons Of Bluehost And Wix
Bluehost Pros:
Various hosting plans: Bluehost offers shared, VPS, dedicated and cloud hosting, as well as options such as managed WordPress hosting that, allows you to easily adapt your website according to your hosting requirements.
24/7 support: In addition to the best self-help resources of all hosts, Bluehost comes with a great team of experts who are there for you all around the clock, day and week via a support ticket, a hotline or through live chat support.
Excellent Refund Policy: Bluehost will refund you the full amount if you cancel the hosting plan within 30 days. They are also good at refunding the prorated amount if you cancel after that period.
Bluehost Cons:
No Uptime Guarantee: Bluehost offers no compensation for longer or unexpected downtimes.
Additional Fees: Unlike some competitors, Bluehost charges additional fees if you want to migrate existing websites or Cpanel accounts.
Wix Pros:
Easy-to-use drag-and-drop interface: Wix uses a WYSIWYG system (what you see is what you get) that gives you complete control and real-time insight into your website.
Professionally designed templates: With Wix, you can choose from over 510 incredibly elegant, fully customizable HTML5-based templates, as well as a handful of Flash-based templates.
Intuitive help options: Wix would like to guide you through the official support channels as well as directly related support articles, which you can find by clicking on the help/support buttons that are visible almost everywhere.
Wix Cons:
Ads are shown in the free version: Wix includes advertising and logos on the pages and in the footer section of your website if you use their free plan.
Templates cannot be easily changed: There is currently no way to swap templates without losing the customization work you have done on your website.
Conclusion: What's My Opinion on Wix vs Bluehost?
In my opinion, Wix and BlueHost both are solid and reliable hosts for all types of website owners. The two are pretty similar and difficult to compare, but BlueHost is probably the better option for me because it offers a wide range of hosting solutions backed by a reliable support team.
BlueHost is the winner of this showdown because it offers better hosting options at a lower price than Wix along with more storage, bandwidth, and overall performance.