Are you trying to decide between Wix vs Google Sites to build your website?
While we know that Google sites is the most popular website builder in the world, it is not a single option. Google Sites and Wix are two of the most successful cloud-based website builders that offer many helpful features to their users.
In this article, we will compare Wix vs google sites and highlight their features, pros, and cons. We hope that after reading this review and comparison, you will be able to decide which platform is right for your needs.
Overview Of Wix And Google Sites
Google Sites- Google Sites is a feature-rich website builder from Google that makes it easy to create simple websites for your business. The system also provides a reliable hosting platform and creates an intuitive web building environment. It is tightly integrated with other Google tools such as Analytics, Drive, etc. It is suitable for small and medium-sized companies.
Try Google Sites
Wix- Wix is a complete website builder that allows you to create websites, blogs, and e-commerce websites in minutes without programming. It has a drag and drop page editor, customizable website components, a template library, A / B tests, and tools to optimize the conversion rate. It is suitable for small and medium-sized companies as well as large companies.
Try wix
Features Overview
Wix: Wix offers numerous features that are listed below:
Automatic Website Builder
100s of Premade Templates
Customizable Designs
Free and Reliable Hosting
Optimized Mobile View
One-Page SEO Checker
Drag n' Drop Website Editor
Image Editor
Text Editor & Free Fonts
Add and Organize Pages
HTML Embed Code
Page Protection
One URL for website & mobile site
Blog Page
Facebook comments
Social Feed
Automatic blog styling
Social Buttons (Facebook, Twitter & Pinterest)
Wix App Market
Online Store
Email Marketing Plugins
Display Events
Live Chat Support
Multiple Payment Methods
Contact Manager
Personalized Google Mailbox
Financial Tools
Marketing Tools
Communication Tools
Site Analytics – Google Analytics and many more.
While Google sites offer features such as:
Add text boxes
Customize text using header forms, stylization, fonts, etc.
Add images from Google, a link, or upload
Embed a table of contents
You can update the number of columns in the layout
You can turn the footer on/off
You can insert a sidebar and set it to the left or right of the blog
Embed multiple colors
You can integrate Google tools like Gsuite, Groups, and Hangouts
You got to see both of their features, now we'll compare them on several benchmarks like:
1. Pricing Plans:
The cost of building a website is an important factor when choosing a website development platform. The total cost of developing and maintaining your website depends entirely on your requirements.
Wix:
Wix offers a simple website builder for free. However, there are two main disadvantages. First, add Wix branded ads at the top and bottom of your website. Second, you cannot use a custom domain name for your site. The address is, therefore: username.wix.com/sitename
But, a major concern is that the basic plan does not offer the essential add-ons such as Google Analytics, favicons, eCommerce, etc. In order to remove ads and get additional market functions for your apps, you have to upgrade to one of the premium offers you offer. Each Wix Premium plan has different storage limits and bandwidths. You can pay monthly or choose an annual plan.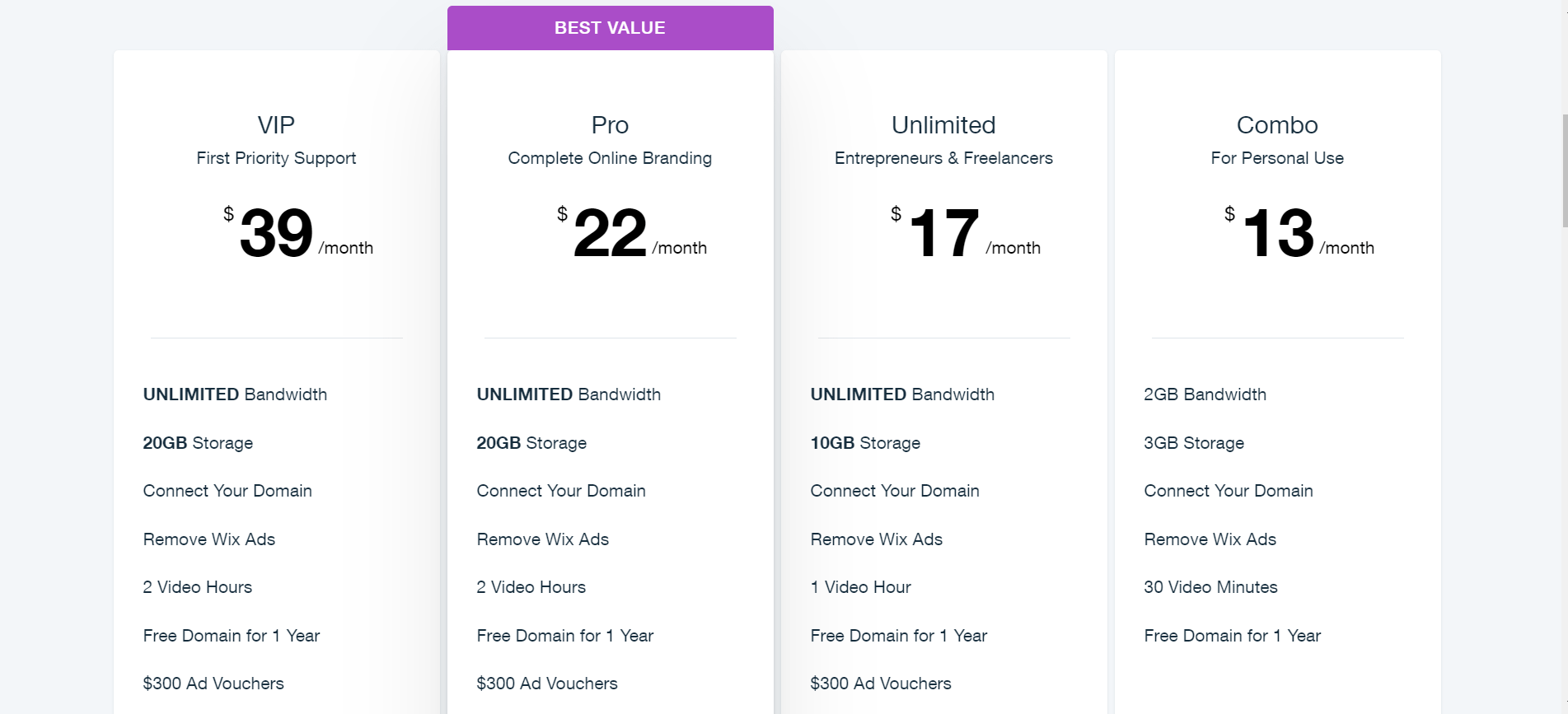 Wix's cheapest rate is $13/ month which is the unlimited rate. If you want an e-commerce shop, you need the e-commerce tariff which costs you $23 / month. These costs do not include apps that you later want to purchase from the Wix Apps market for use on your website.
Google sites
Since Google Sites is a completely free service, it makes sense to compare it with a free version of Wix. You have 10 GB of hard disk space for your files, can connect to your own domain, add a favicon and configure the simplest search engine optimization and that's all about it.
We have already defined that Wix is ​​the leader in this comparison even under these circumstances: it has fewer restrictions and more possibilities under other, same conditions. The functionality is expanded if chargeable tariffs are used. Therefore, Google Sites has no chance of winning the comparison.
2. Ease Of Use
Wix: Wix includes powerful and easy-to-use tools for creating your own website. It offers a simple drag and drop interface that allows you to select any element on your website and edit it in a WYSIWYG interface.
You can drag and drop items anywhere on your website, rearrange items on your pages, write content, and add media in a user-friendly environment. Many beginners will find this feature a blessing because they don't have to manage the code.
Google Sites: Google Sites is similar to the Pages text editor in terms of the user interface. What you will see is the document you will be working in and 3 sections with options on the right that are created from the tabs. The management of the website is not significantly different from editing a report with formatted text and multimedia. It is a one-sided surface. Everything that is not included is also displayed in pop-up windows without transition.
This is done on the same screen. No wonder this service is very easy. The elements and options that you can use are visible at the same time. It's theoretically impossible to mix anything here. It takes half an hour to a day to explore the service based on your interest and experience.
Verdict: Since we mainly focus on usability in this section, the winner of this section is obvious: it's Wix. The system interface is simple, functional, intuitive and easy to use.
3. Designs & Customizations
The design and conception of your website play an important role in your success. Every website owner needs a design that is not only attractive but also user-friendly and that highlights their brand.
Wix:
Wix offers over 500 pre-made models to choose from. All Wix designs are completely appealing and written in HTML5. With the built-in tools, you can further customize the design of your site, change the design and rearrange the elements as you wish.
There are designs for all types of websites. The models are divided into categories such as business, e-commerce, hobbies, crafts, personnel, Travel& Tourism, food, etc.
A major disadvantage is that you cannot change a model after you have selected it. You can edit and customize anything you want using only the built-in tools. However, you cannot switch to another model.
Google Sites:
Google Sites does not have an inventory design gallery. Instead, you are offered 6 simple designs that allow you to change the layout and the font of the page. Also, you can only change the main color of the elements.
Therefore, the websites are similar to the designer's point of view. They have the same color and font style. The possibility of coloring the blocks immediately or defining your own background image makes for variety.
There are no other design customization tools. The pages of Google Sites can differ optically due to the different combinations of the elements and their position to one another. All websites created with the platform are very similar. The difference lies in the content and its format.
Verdict: The design comparison clearly differentiates between a professional website builder and a simplified application for the company intranet. It goes without saying that Wix offers all the benefits of a complete system: a perfect set of design templates optimized for mobile devices, advanced customization tools and the ability to create your own designs from scratch.
Pros & Cons Of Wix And Google Sites
Wix Pros
Wix is free for everyone: This means that anyone with basic computer and internet skills can access it anytime, anywhere on any device in their web browser.
It comes with an easy drag-and-drop function for creating designs similar to the Microsoft Word application for creating various forms.
High-quality predefined models: The models are designed by high quality and classified graphic designers. Therefore, you do not have to worry about the design, design, responsiveness, and structure of the website.
Responsive design and optimized designs for mobile devices, desktops, and tablets: This means that your website automatically adapts to the device every time users around the world open it. When a website gets opened on a mobile device, the user interface and content change depending on the screen of a mobile device. If it is opened on a computer/laptop or a high screen, this will change accordingly.
You can purchase domain and web hosting at the same time you create a website.
Integrated SEO: Wix is a perfect platform that gives you tools and tips to help you optimize the website for organic traffic on Search engines such as Google, Bing, and Yahoo.
You can use support 24 hours a day, 7 days a week as long as you get stuck with something.
With Wix, you can create corporate websites, online shops, photos, music, blogs, resumes and portfolios in just a few hours. Wix also offers sophisticated tools such as photo filters and animated texts that many other platforms do not offer.
You get a domain, hosting, storage, Google analysis in the premium plan.
There is a 14-day money-back guarantee if you don't like your services and products after purchasing premium packages.
Payment is secure and protected by 256-bit SSL encryption.
You can pay with VISA, MasterCard, Amex, and Discover.
Websites created with Wix are faster to load, are extremely flexible and can be changed easily. They have a variety of applications that can be used to integrate tools and widgets on the website. Wix Artificial Design Intelligence (ADI) is intuitive and also creates backup points for your site for future restoration.
Wix Cons:
It is not perfect for large websites that have more than 30 pages because the navigation menu cannot accommodate complex sub-structures. The navigation depth is therefore only two levels.
In the free version, you cannot access all functions and features. For example, if you want to access all the correct design elements or if you want your own domain without Wix ads.
You cannot implement your own design ideas. For example, if I want to have unique designs with multiple unique user experiences, doing it on Wix is ​​not easy. It's easy to start with Wix, but once it's done it's difficult to give it a personal touch.
There is no way to export your data to Wix if you want to switch to a different platform. Wix says they're working on it, but right now you have to manually copy and paste all of the content and data into your new website.
It can be difficult to pay for premium services and features for new or new students. Compared to other website builders, wiz is 20 to 25% more expensive with its paid offers, especially if you plan to use it for more than a few months.
Google Sites Pros:
It's totally free
Fast and easy to edit
No programming or database skills needed
It is best for the newbie who wants to develop a website for the first time
No software installation required
Integrated with Google apps
A creator can use tools anywhere on the page
Creator has full control on-page access and permission
It works as a basic project manager
Google Sites Cons:
It comes with limited functionality compared to Wix website builders
Not really good website for the business as there is not enough scope for customization
Apps are only limited to Google store apps. Apps outside Google apps may be inapplicable
The site URL must begin with "sites.google.com/site/" which is too large for a website.